Why not complete your Galapagos Cruise with relaxing days in Mindo Cloud Forest FOR FREE?
We are the owners of top rated luxury lodge Las Terrazas de Dana in Mindo Cloud Forest, only 2 hours from Quito Airport. That´s the reason we can offer free nights and transportation with your Galapagos Cruise.

We are partners of most Cruise Operators in Galapagos Islands, so just let us know your approximate travel dates. If you already have a Galapagos Cruise in mind or want us to send you some alternatives, just contact us.
You decide if you want to stay in our luxury lodge before or after your Galapagos Cruise. If it's before, you could sleep night before in an airport area hotel or if you decide to go directly from Las Terrazas de Dana, our staff will assist you to contact cruise operator staff at the airport. Anyway, we will give you information for your cruise. If you decide to visit our lodge after your cruise, we will pick you up from the airport. We always make it easy for our guests.
In one trip you will visit the most famous wildlife-watching destination in the world and one of the best cloud forest areas in South America declared on 25th July 2018 Biosphere Reserve by UNESCO and Top 10 places in the world for Birdwatching.
Galapagos Cruise request:

Some of our cruise partners: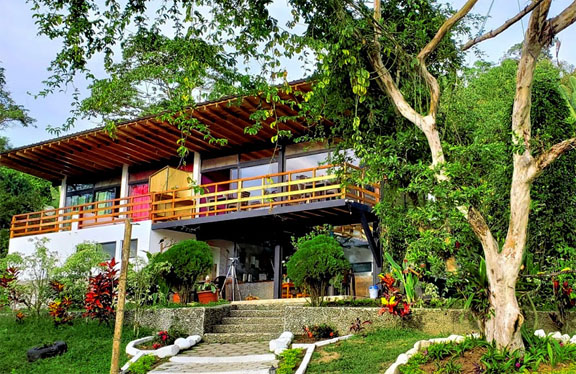 We are the owners of Las Terrazas de Dana Lodge
We are located in Mindo, the birding paradise of Ecuador.
Ana and David from Canary Islands (Spain), own and manage the lodge. First Class Service in the Cloud Forest of Mindo!.
Just check our reviews on Tripadvisor and Booking.com
More information about The Galapagos Islands.
Hidden in the Pacific Ocean, the Galapagos Islands is a place of unique and untouched beauty. A place of inspiration, relaxation and meditations. A trip to the Galapagos Islands is a must for the adventurer and the explorer. It is home to many unique and a few protected species, making the Galapagos Islands a place of wonder and beauty. A bird watcher's paradise and an adventurer's haven, the Galapagos islands invites visitors everywhere to come and be enchanted.
The Galapagos Islands are made up of 19 unique islands. Chief among them is Santa Cruz, the oldest Island and home to the giant Tortoise believed to live for over a hundred years. San Cristobal is known for its amazing sea lions while Genovesa is said to have been formed from a collapsed volcano and boasts many majestic seabirds. Fernandina, despite its active volcano, is crawling with unique Iguana species while Santiago has beautiful herons. Each unique island presents a different opportunity to see nature differently.
Reasons to visit The Galapagos Islands:
Here's what the Galapagos Islands have to offer!
• Isolated and uninhabited islands.
A trip to the Galapagos Islands takes you away from over-crowded beaches and man-made attractions. It's a trip to a unique destination in a different world. The whole Galapagos region is a protected area, which makes it a natural untouched habitat. This makes the islands perfect for exploration, study and observation.
• Unique landforms.
Shaped by volcanic activity and natural forces, the Galapagos Island bears interesting rock formations and unique looking landscape. The island attracts scientists, and others interested in studying the earth and its unique features. Unique caves, strange landforms and well adapted vegetation will keep you captivated.
• The inspiration.
The Galapagos Islands is the place where Charles Darwin gained remarkable insight into life and how it evolves. The theory of evolution by natural selection was developed by Darwin after studying similar species that lived on the different islands. The same species developed different features due to the conditions on the different islands. Many visit the islands for similar insight and revelations.
• Friendly untamed wildlife.
Get a close look at animals which want to get to know you too!. The animals on the islands are friendly and want to meet you just as much as you want to meet them. This allows for even closer observation of unique wildlife. The wildlife on the islands have some very interesting characteristics worth observing. Mating behavior among bird species is especially interesting for visitors to watch.
• The Personalized and Specialized Birdwatching tours in Galapagos islands
The Galapagos Islands are home to unique species of birds. This makes birdwatching an ideal part of any visit to the islands. The Galapagos Islands are protected and birding in Ecuador offers a unique experience. Specialized and personalize tours can be arranged for individuals, friends and families to enjoy. This gives your tour a more personal touch.
Galapagos Cruise Tours
Galapagos Cruise Tours provides a more comfortable way of viewing the Galapagos Islands. Cruise Tours varies in the level of luxury and activities they provide. Cruises often provide a more planned and well-organized way to experience the islands. They are ideal for viewing and experiencing more islands in less time. With many cruise tours to choose from, visitors are able to get many different experiences from their tours.
Galapagos Cruise Tours are highly rated by visitors to the islands. The tours are provided by several cruise operators that provide different options for visitors. Options depend on price, length of cruise, the required level of comfort and the number of individuals. Cruises provide opportunities for fun and adventure with activities such as snorkeling, diving, kayaking and sight-seeing. Diving and snorkeling provide amazing opportunities to see marine life up-close.
Cruise tours include planned activities and excursions. Choose from over 60 vessels to make your trip. Each tour offers a unique experience. However, it is important to remember that each cruise offers different types and amounts of activities. Choose your tour depending on the number of activities you wish to participate in. If you wish to engage in more than one activity, choose a tour that offers that option and provides the relevant gear to do so. The most luxurious cruises provide gears for snorkeling and other activities.
Options for Cruise tours include cruise ships, sailboats, motor boats and catamarans. Smaller cruise vessels tend to offer more personalized trips that can visit most locations. This offers more island-hopping experiences, which means more fun and activities. You can choose the options that best suits your budget, group size and interests.
Safety is important on cruise tours. There is no need for great concern however, as experienced and certified staff members are always on the cruises. They are required to be present for each planned activity, to protect both you and the animals. These crew members know all the stories, history and myths about the islands and are happy to share the most compelling tales.
The Mindo Cloud Forest, 2 hours from Quito airport.
Include a trip to Mindo Cloud Forest as part of your plans to visit the Galapagos Islands. This lush green forest boasts beautiful waterfalls, exquisite birds and a mystic air. Mindo Cloud Forest is known for its birdwatching opportunities. Birdwatching tours can be organized and personalized to suit each visitor. Other activities include Zip lining over jaw-dropping heights and adventure filled hiking on enchanted trails next to breathtaking waterfalls. Visit Mindo Cloud Forest after an adventurous Galapagos cruise to relax and continue being enchanted in a comfortable atmosphere and nice warm weather. Feel completely captivated by taking a planned, personalized tour for a quiet, relaxing experience. Take as many photos as you like and relish every moment of the experience.
A trip to the Galapagos Islands will fill you with wonder, excitement and fulfilment. The sights, sounds and feelings the islands create will result in a life changing experience. The adventures experienced will be memorable for life and are best when captured on camera. Have a story to tell when you return from vacation, by visiting the Galapagos Islands and the mystic Mindo Cloud Forest!.