Mindo Ecuador is a tiny town located in the Andean foothills which is surrounded by beautiful forested mountains and trees. From nature lovers to adrenaline junkies all kinds of people flock here as a result of this natural paradise. Especially during the weekends you can meet with nice and friendly ecuadorians. Enjoy an amazing scenery and host of fun activities while you are able to sleep with the river sound. Mindo Ecuador is a paradise for avid birdwatchers due to the species of hummingbirds, toucans, tanagers and more!. Mindo Ecuador congregate almost 500 different species of birds that have been spotted around. In conclusion a bird watching (birding), hot spot of the World!. It is situated just north of Quito conveniently located along the route to North West of the country. Mindo Ecuador is often described as the less crowded more beautiful version of Baños.
When is the best time to go to Mindo Ecuador.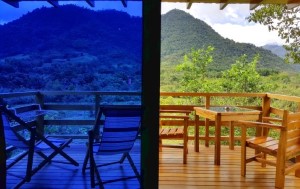 Enjoys fabulous weather all year around since Mindo Ecuador has an excellent location inside the valley. There are 12 hours of sunlight every day of the year, therefore natural life everywhere. In Mindo Ecuador there are 2 seasons, rainy season and dry season. The dry season starts in June and lasts until November. Thus the rainy season is in the remaining months from December until May. During the wet season the weather is predictable, usually sunny and warm in the morning with rain in the evenings. Across the year the temperatures range from around 15ºC – 24ºC (60ºF – 75ºF).
How do I get to Mindo Ecuador.
Best option is to arrive in Quito first and then either take a taxi or public bus straight to Mindo. It is possible to hire a car during your stay however this is prohibitively expensive and therefore not recommended.
Taxi.
From Quito Old Town a taxi can be hired for $70 while from the international airport for $90.
Public bus.
From Quito there is a bus terminal called La Ofelia Terminal Terrestre and it has direct buses to Mindo Ecuador. The company is called Flor de Valle while the journey costs $3.10 and takes approximately 2 hours.
Current timetable is as follows:
Monday to Friday
Quito to Mindo: 8:30am, 9am, 11am, 1pm and 4pm
Mindo to Quito: 6.30am, 11am, 1.45pm, 3:30pm and 5pm
Saturday
Quito to Mindo: 7.40am, 8.20am, 9.20am, 11am, 1pm, 2pm and 4pm
Mindo to Quito: 6.30am, 11am, 1pm, 2pm, 4pm and 5pm
Sunday
Quito to Mindo: 7.40am, 8.20am, 9.20am, 11.00am, 1pm, 2pm and 5pm
Mindo to Quito: 6.30am, 11.00am, 1pm, 2pm, 4pm and 5pm
Please note that buses can become full so best to arrive 30 minutes before your planned departure to Mindo Ecuador. There are more bus services to and from Quito during the weekends because Mindo Ecuador is busier during these days.
What can I expect when I get in Mindo Ecuador.
Mindo Ecuador is a tiny town surrounded by a beautiful cloud forest. Mindo Ecuador is one of the premier birdwatching spots not only in Ecuador but across the World. The town attracts many avid bird watchers and nature enthusiast. That happens due to the huge variety of birds, butterflies and wildlife in the surrounding area. Mindo Cloud Forest covers a vast expanse approximately 268 square kilometers (103 sq miles) and ranges anywhere from 960–3,440 meters. There are also a variety of adrenaline fueled activities including zip lining, canyoning and tubing. Even at night the town is incredibly safe so you can make night walks in the trails around Mindo Ecuador.
What activities are there.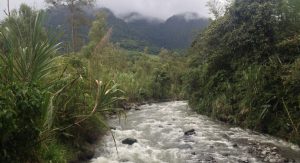 There are many of activities available in Mindo Ecuador from nature activities to adrenaline fueled action sports.
– Butterfly farm. You will be astounded at the variety and quantity of butterflies in this remarkable place – the largest in Ecuador. The memory of hundreds of butterflies of 25 different varieties flying around your head is not forgotten anytime soon. A great place to spend an afternoon relaxing. Open from 10am and the best time to see the butterflies in its splendor is between 10am and 12am.
– Hummingbirds Garden (El Descanso). Upon arrival you will be taken aback by the sheer amount of activity and flight surrounding the feeders. There are literally dozens of different hummingbirds vying for the multiple birdfeeders that are surprising close to the viewing balcony. You can get really close to the birds, therefore seems they like observers!. Not only are there hummingbirds but a variety of beautiful other birds not to mention squirrels. All within a few meters of the viewing space. It is easy to spend a couple of hours relaxing in the quiet watching the frenetic activity around. The owners of this garden have done a commendable job in attracting local wildlife to their location.
– Frog Concert (concierto de Ranas). Take an hour-long guided stroll through the surrounding cloud forest at night to appreciate the contrast in sights and sounds. Most noticeable are the frogs that appear in order to sing with the rain in Mindo Ecuador. The knowledgeable guide will show you not only frogs. Also lightning bugs with bright glowing eyes and fungi that naturally glow in the dark. As if that wasn´t enough you can also see giant crickets, frog-eating spiders and armadillos. Tour starts at 6.30pm in Mindo Ecuador.
– Orchid farm (Orquideario). For orchid lovers don´t miss your chance to visit the quaint orchid farm with over 200 different varietes of orchid. Entry comes accompanied with a guided tour of the gardens when you visit Mindo Ecuador. The farm is truly a labor of love by the sole owner.
– Chocolate factory tour (Tour de Chocolate). Take part in the entire process of how to make local organic chocolate using age old techniques. Try a hand at creating your own chocolate and taste it yourself. Plus you get to eat a bunch of samples along the way. Tours are available seven days a week every hour from 10am until 5pm. You can do the tour located in Mindo Ecuador and the tours last one hour.
– Hike at the Yellow house (Casa Amarilla). There is an extensive property that has developed various different hiking routes through the surrounding forest. There are many opportunities to see birds, butterflies and insects along the way. Mindo Ecuador is a good place to see spectacled bear so here is the hot spot!.
– Cascada Nambillo pool. The name of the waterfall at the top of the hill is Cascada de Nambillo. This waterfall is a good spot to relax for a few hours. It includes a fast waterslide and several warm pools. For the daredevils among you there is a 12 meter jump from the top of one of the waterfalls!
– Waterfalls Sanctuary (Tarabita y Santuario de Cascadas). To reach the entrance to the waterfalls is over 7km uphill so it is advisable to take a taxi. First you need to cross the valley with the cable car (tarabita). Once there you can visit seven different waterfalls!. The experience here is mostly trekking so be sure to take good walking shoes, water, insect repellent and suntan cream. It´s possible to jump into most of the waterfalls so be sure to bring a swim suit with you. In Mindo Ecuador it is so refreshing to jump into the water after trekking for a couple of hours.
– Canyoning. A heart pumping adventure that involves walking, rappelling and jumping down canyons and waterfalls in the beautiful scenery. The adventure begins with a beautiful hike within Mindo Ecuador. A descent of three waterfalls of varying heights starting from 12m then 15m and finally over 20 meters.
– Tubing. Many visitors jump in a giant rubber ring and float down the river Mindo Ecuador. In the dry season this is a leisurely pursuit and takes one hour. However in the wet season the pace really picks up and the same journey will take you only 15 minutes. With larger rapids and faster currents the experience becomes a lot more of an exciting experience.
– Mindo Ziplines (Canopy). With 10 cables and over 8,450ft of lines you are sure to get your fill of this adrenaline sport!. The added security of a double cable system and experienced professional staff ensures your safety. The complete tour and will take approximately an hour to complete so take pleasure.
What is a cloud forest and how it is different from a rainforest?
Cloud forests are normally at higher altitudes and are therefore much cooler year-round. The name derives from the fact that they are sometimes accompanied by mist and fog. Cloud forests have steep changes in elevation from the high peaks to low valleys whereas rainforests are quite flat. Both types of forest are lush and green with a remarkable variety of vegetation and wildlife.
Cloud rainforests are interspersed with shallow, fast moving clear streams with rocky beds. Whereas rainforests have murky, slow moving and silt laden rivers. The high moisture levels mixed with cooler temperatures create a cocktail of intriguing plant communities. In addition, scientists are discovering these plant communities with increased excitement.
Mindo Ecuador is a hot spot after your Galapagos cruise to relax for 2-3 nights. Additionally you will enjoy nature sounds and gorgeous views of the Mindo Cloud Forest.
We are partners of Nature Travel Network.