Bird Photography Tour:
Ecuador Andean Choco & East Slope
Scheduled Group Departure Nov 27 - Dec 8, 2022
Max group: 6 photographers!
Ecuador has the most elevated bird species diversity per square meter in the world and offers probably the best birding options in South America. Because of the short distances to drive, awesome lodges and other infraestructures for birders and photographers, with different hummingbird feedres and banana station for many species, along with Antpitta feeders, Ecuador is the secret "must-go" destination in South America!
Ecuador is popular for its unprecedented variety. With a top-notch selection of reserves to visit and photography feeders, it is becoming a top bird photography destination. There are very good feeder set-ups with flowers to take the best possible photos of hummingbirds. Also superb banana feeders with good backgrounds ready to photo other colorful tropical birds, like toucans, trogons, woodpeckers, tanagers, and the famous Andean Cock-of-the-Rock.
per person sharing double room
* Single supplement: $720
Dates:
Nov 27 – Dec 8, 2022
Length: 12 Days
Start / End city: Quito
Pace: Easy
Physical difficulty: Easy
Focus: Bird photography
Max group size: 6 photographers
Itinerary can be modified because of weather conditions and better options to take photos to participants according to feeders activity.
Day 1: Arrival in Quito.
Participants will be met upon arrival in Quito's International Airport (Airport code: UIO), and transferred to our hotel in Airport Area. Dinner not included. Most flights to Quito normally arrive in the late evening. It is also recommended to arrive in Quito one or two days in advance in case you want to do a Quito City Tour, shop for local crafts and also in the event of any international flight details. If needed, we can assist with additional lodging and guiding requirements in Quito.
Day 2: Zuro Loma Reserve.
At 6:00am we will check-out our hotel and transportation to Zuro Loma Reserve to enjoy a day taking photos in their feeder setups. We will have a local breakfast and lunch in their reserve.
It is a family owned tourism business that is part of the Choco Andino Biosphere Reserve, located at 3,100 meters above sea level, created in order to preserve and conserve the flora and fauna present in the High Montane Cloud Forest. Also an economic alternative to livestock, the main activity of the family, and in the future to reforest the pastures expanding the forest with native plants such as palicourea that are preferred by the rare and critically endangered Black-breasted Puffleg that is endemic to Ecuador.
Key Species: Sword-billed Hummingbird, Chestnut-naped Antpitta, Ecuadorian Antpitta, Sapphire-vented Puffleg, Ocellated Tapaculo, Red-crested Cotinga, Andean Guan, Scarlet-bellied Mountain-Tanager.
Accommodation and dinner: Las Terrazas de Dana Boutique Lodge & Spa.
Day 3: Paz de las Aves.
Departure time is set up at 5:20am in the morning with breakfast box. Then we will drive around 40 minutes on our way to Paz de las Aves. This private reserve, located 1,400 meters (4,590 ft) between Nanegalito and Mindo at kilometer 65-66, has 30 hectares of primary and secondary forest. Offers a once-in-a-life-time opportunity to sight the famed Cock-of-the-Rock and to delight in with Rodrigo and Angel Paz; two brothers who have patiently trained several gralarias – normally very shy- to leave the tangled forest when they hear their names and then reward them with the portion of worms. The most daring is the Giant Antpitta called "María" who follows them everywhere in search of the worms, then Angel Paz calls "Willi" Gralaria Pechiamarillenta (Yellow-breasted Antpitta) to eat. They also have training for Grausta Moustached (Moustached Antpitta) and Gralaria Pechiocracea (Ochre-breasted Antpitta). On rare occasions, the Corcovado Dorsiosuro (dark-Backed Wood Quail) appears. The highlight bird to be sighted in this location is the Cock-of-the-Rock, but you also have the opportunity to enjoy the company of the following birds: Giant Antpitta, Moustached Antpitta, Yellow-breasted Antpitta, Chestnut-crowned Antpitta, Ochre-breasted Antpitta.
Afterward, you will enjoy your breakfast outdoors to recovering the energy enough to relish this day. Angel Paz and his family will offer a taste of a traditional breakfast on the base of mashed and fried green plantain called "bolón de Verde" complemented with the best Ecuadorian coffee after the visit. We will continue with our Photo Tour in their reserve and special hummingbirds and banana feeders and you will have a delicious and tasty lunch on their property before we leave.
Afternoon, we will continue with our next stop: another Cock-of-the-Rock Lek which is recommended to visit in the afternoon and good posibilities to take your photo!
Accommodation and dinner: Las Terrazas de Dana Boutique Lodge & Spa.
Day 4: Santa Rosa Feeder and Milpe.
Just before sunrise, at 5:20am in the morning, we will drive to Santa Rosa Feeder. It may take about 35 minutes to get to this birding spot which is excellent for photographers. Enjoy your breakfast outdoor which is complemented.
This area features several feeders which attract different birds, including the Plate-billed Mountain-Toucan. Their moth feeder is a skin that has white sheets and light that attracts insects and in the early morning, there is a great variety of birds. Their hummingbird's feeder area is a good one to see new species and to take photos. There is another hideout where the toucan's visit and the entire area are being set up to allow photographers to take great pictures, including some "pools" for reflection photos.
Before noon set on, you will be back to Las Terrazas De Dana Boutique Lodge & Spa in where, before you are invited to join us for lunch, you can enjoy our swimming pool, private terrace, beautiful gardens and have some relaxing time.
In the afternoon, we will drive 25 minutes to Milpe Reserve. Mindo Cloud Forest Foundation invites birders and nature lovers to explore their other bird reserve, Milpe Bird Sanctuary. A Choco-Andean foothills reserve, located in the Birdlife International defined Important Bird Area Los Bancos-Milpe (EC041). Opened in March 2004 has recently been expanded to 100 hectares (247 acres), now including the adjacent 'Milpe Gardens' which has easier access to the Chalhuayacu river valley and makes a great addition to their already wide trail system.
Key Species: Plate-billed Mountain-Toucan, Blue-capped Tanager, Hoary Puffleg, Blue-Necked Tanager, Bay-Headed Tanager, Red-Headed Barbet, Choco Toucan, Golden Headed Quetzal, Crimson-Rumped Toucan, Club-winged Manakin, Green Thorntail, White Whiskered Hermit, Green-Crowned Brilliant, Green-Crowned Woodnymph.
Accommodation and dinner: Las Terrazas de Dana Boutique Lodge & Spa.
Day 5: Amagusa Reserve.
Very early in the morning, around 4:30 am, we will depart and after two hours ride, we will arrive at the well-known and pristine Amagusa Reserve. After enjoying our breakfast, you will start your excursion by the hand of your birding guide. We will spend all day in this reserve taking photos of the famous endemic species visiting their feeders. You will love this paradise.
The Amagusa Reserve is a privately owned 130 hectares of recovering forest in the new protected important bird area (IBA) Mashpi-Pachijal. The specific location of this forest within this IBA makes it even more special since this area is the last foothill forest that directly connects to the lower subtropical western forest of Ecuador. Its unique location makes it particularly attractive for birders looking for the highest biodiversity regions with Chocó endemic birds.
This reserve is located next to Mashpi Road, and it is toward the higher altitude forest. The altitude range is 1,700 to 750 m.a.s.l, it begins at the higher altitude pass and continues to the Mashpi Road entrance gate. The reserve extends downward to the east of the road toward a river where the forest is best conserved.
We will have a tasty lunch at Amagusa Reserve Restaurant, where Doris will take care of us with a delicious meal.
Key Species: Indigo Flower piercer, Golden-collared Honeycreeper, Black Solitaire, Orange-breasted Fruiteater, Lyre-tailed Nightjar, White-tipped Sicklebill, Choco Vireo, Choco Parakeet, Glistening-green Tanager, Black-chinned Mountain-Tanager, Black-striped Sparrow, Flame-faced Tanager, Velvet-purple Coronet, Violet-tailed Sylph, Booted Racket-tail, Toucan Barbet.
Accommodation and dinner: Las Terrazas de Dana Boutique Lodge & Spa.
Day 6: Moth feeder and Punto Ornitológico.
Only 20 minutes from Las Terrazas de Dana Boutique Lodge & Spa, we will visit a moth feeder where we have posibility to see Masked Trogon, Squirrel Cuckoo, Rufous Motmot, Red-headed Barbet, Crimson-rumped Toucanet, Strong-billed Woodcreeper, Black-capped Tanager, Buff-throated Saltator, Black-winged Saltator, namong with other species.
After visiting this moth feeder, we will come back to Las Terrazas de Dana Boutique Lodge & Spa to enjoy breakfast and afterwards visit "Punto Ornitológico" in Mindo to continue taking photos of hummingbirds and other species. In this location we have posibilities to see and photograph Sunbittern and Ringed Kingfisher.
Afternoon we will visit San Tadeo Feeder only 10 minutes from Mindo, to continue taking photos after leaving the Andean Choco in the next morning.
Key species: Masked Trogon, Squirrel Cuckoo, Rufous Motmot, Red-headed Barbet, Crimson-rumped Toucanet, Strong-billed Woodcreeper, Black-capped Tanager, Buff-throated Saltator, Black-winged Saltator.
Accommodation and dinner: Las Terrazas de Dana Boutique Lodge & Spa.
Day 7: Antisana – Chakaca Reserve.
We will have an early check-out at 4:00am from Las Terrazas de Dana Boutique Lodge & Spa and continue our trip to the East Slope. We will visit Antisana Reserve since it is one of the best places to see the Andean Condor and Ecuadorian Hillstar.
After lunch in the famous restaurant Tambo Condor, we will continue our drive to Guango Lodge.
Key species: Andean Condor, Ecuadorian Hillstar, Great Horned Owl, Variable Hawk, Giant Hummingbird, Shining Sunbeam.
Accommodation and dinner: Guango Lodge.
Day 8: Guango Reserve.
We will spend our morning in Guango Reserve taking photos with all the posibilities this reserve offer. After lunch in their lodge, we will continue to Río Quijos Ecolodge.
Key species: Inca Jay, Turquoise Jay, Gray-browed Brushfinch, Slaty Brushfinch, Pale-naped Brushfinch, Tourmaline Sunangel, Long-tailed Sylph, Collared Inca, White-bellied Woodstar, Chestnut-breasted Coronet.
Accommodation and dinner: Rio Quijos Ecolodge.
Day 9: Río Quijos Ecolodge.
We will spend our morning in this nice lodge located in Chaco area which is situated near a river, taking photos in their feeders and river area. After lunch in the lodge, we will continue our trip to San Isidro Lodge.
Key species: Torrent Duck, Fasciated Tiger Heron, Golden-eared Tanager, Scarlet-rumped Cacique, Russet-backed Oropendola.
Accommodation and dinner: San Isidro Lodge.
Day 10: San Isidro Lodge.
Full day photography in San Isidro Reserve. We will visit their moth feeder and other possible locations to take many photos.
After lunch, we will visit in the afternoon a nearby hummingbirds feeder called La Brisa, which is really good to take photos with good background.
Key species: Masked Trogon, Blackburnian Warbler, Canada Warbler, Summer Tanager, Cinnamon Flycatcher, Gorgeted Woodstar, Booted Racket-tail (orange legs), Bronzy Inca, Violet-fronted Brilliant.
Accommodation and dinner: San Isidro Lodge.
Day 11: Wayra Reserve.
Located 45 minutes from the lodge, we will visit in this morning Wayra Reserve Feeders.
Key species: Black-throated Mango, Golden-tailed Sapphire, Silver-beaked Tanager, Blue-gray Tanager (white edge), Spotted Tanager, Blue-necked Tanager, Paradise Tanager, Red-crested Finch.
Lunch in San Isidro Lodge and transportation back to Quito Airport Hotel.
Day 12: Departure.
Tour ends in the morning after breakfast with transportation to Quito Airport from the hotel.
We have extensions available on request visiting Galapagos Islands on a cruise, Amazon Yasuní Lodges, Amazon Misahualli Area, Wildsumaco Reserve and Southern Ecuador.
Pay only deposit of $1,000 to book. Remaining $2,600 can be paid at your arrival in Las Terrazas de Dana Boutique Lodge & Spa with your credit card.
(No need to bound your money for 60 days).
PACE: Relaxed. Early departures 5-6am with a flexible breakfast box according to the photography activity. In the afternoon when you return to the lodge, you have time to relax or if you want to edit photos. The itinerary is optimized to avoid long distances in same day, but on Day 7 with early check-out and departure to Antisana Reserve there is a 3-hour drive. Same on Day 11 from San Isidro Lodge to Quito.
PHYSICAL DIFFICULTY: Easy. No long walks to do. Most of the comenderos are accessed with a short walk. In some reserves such as Paz de las Aves, you have to walk a bit to photograph special birds such as Antpittas on moderately slippery and steep trails. Other reserves if desired it is possible to walk on short trails to find good species.
CLIMATE: Usually very nice (mostly 55°-75°F, 13°-24°C). Zuro Loma, Guango and Antisana if warm clothing is necessary as it can be cold. Being the rainy season, it will rain, especially in the afternoons and evenings. Good rain protection for your equipment is important.
ACCOMMODATION: The best accommodation options for each area visited. They all have private bathrooms and hot water all the time. 110V electricity all day. We are the owners of Las Terrazas de Dana Boutique Lodge & Spa and partners of other lodges included in our bird photography tour.
WHEN TO GO: Bird photography tours can be taken throughout the year. Although the weather is changing and becoming more unpredictable, the dry season is from June to August, the rainiest months are from March to April and the rest of the months are in between. Bird activity is scarcer when it is very dry, but even in the dry season, some rain and bird activity at the feeders can be expected. Tours during the rainy season are usually very productive, as most days there is no rain in the mornings and cloudiness means there is less strong midday sunlight.
PHOTO PHILOSOPHY: Most of the time will be dedicated to the birds that arrive at the different feeders that we will visit or to photograph birds that come to eat insects that were attracted by the lights during the night in other types of feeders. Time will also be spent photographing birds along roads or trails.
GEAR: A good 300mm lens and full-frame camera are ideal for hummingbirds, but a longer lens is better for most other birds. A 500mm with 1.4x or 600mm are the best options, but a 300mm with 1.4x and 2x teleconverters usually does a great job too. A smaller lens can be good for landscape shots in the high Andes.
It is the best lodge in Mindo Cloud Forest, Ecuador based on Tripadvisor and Booking.com reviews. Check out our Tripadvisor reviews and let us know any question about bird photography tour.
Bird Photography Tour Group Ecuador November 2022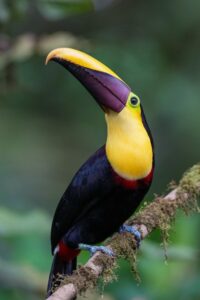 Bird Photography Tour in Ecuador visiting the Andean Choco and the East Slope scheduled for Nov 27 - Dec 8, 2022. Group of 6 photographers max.
Product SKU: birdphotogroupnov2022
Product Brand: Dana Tours
Product Currency: USD
Product Price: 3600
Price Valid Until: 2024-08-28
Product In-Stock: InStock