Caimito permaculture. Aprenticeship and Volunteer Program
$1.00
Volunteer program in Caimito of 8 weeks where you will learn Permaculture.
Description
The program is composed of eight thematic modules over the course of eight weeks. It is a great combination of theoretical learning and practical implementation of what has been learned working in the agroecological farms of cacao and other tropical fruits that farmers produce. The student – volunteers may come at any time of the course, although it is advisable to do so in the first week of each month, when the modules in Permaculture design are taught. Classes and work will be held in the morning from 7.30 a.m. to 1.30 pm approximately. In the evenings you will have free time to support community processes, teach English to children and women in Caimito, go to the beach to relax, learn how to cook the local cuisine, etc. In addition, Spanish classes are offered.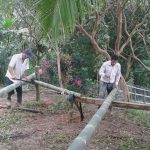 Caimito is a small community belonging to the parish of Quingue, in the province of Esmeraldas. There are 15 families that live in Caimito which work, mainly, in the cultivation of cacao, banana, papaya and other tropical fruits.
Caimito is characterized by being located in one of the most biodiverse and ecologically privileged places in the world. It is one of the last remnants of Tropical Rainforest (Chocó) on the coast of Ecuador. It is located near the Mache Chindul Ecological Reserve and it is part of the Galera-San Francisco Marine Reserve, the first marine reserve established along  the continental coast of Ecuador in which, according to experts, there is a greater biodiversity even than in the Galapagos Islands.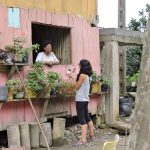 Many families of this community, aware of the uniqueness of their habitat, are learning the importance of taking care of this special ecosystem through sustainable and environmentally friendly forms of subsistence.
In 2008, with this objective of sustainability and conservation in mind, the Asociación Caimito Sustentable was formed as a non-profit organization mostly by the local people.
In addition, in the past few years different actors have joined in this process with the intention of helping for the conservation of this special place through projects funded by local and foreign non-profits, different institutions and also with the collaboration of different people such as biologists, farmers, volunteers, permaculture designers, etc.
Our team is formed by people from different parts of the world and cultures. Our passion is working to improve the current state of nature and the living conditions of the people through the principles of Permaculture. Our goal is to support Caimito so it becomes a community model of sustainable development, working together and in harmony with Mother Earth.
We believe that to realize our dream it is very important to share our way of living and our knowledge by raising awareness about the importance of living in connection with nature as opposed to what the current consumer society  demands. Therefore, we welcome people from everywhere and from all fields to enrich each other and to help us to achieve our goal.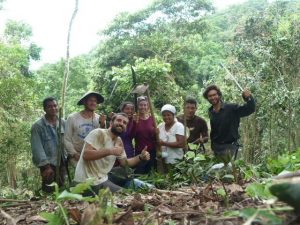 The team in charge for carrying out this program is formed by the following ecologically minded individuals:
George Fletcher was born in Peru. He is a biologist and an expert in Tropical Permaculture. He is the person in charge of all tasks related to agroecology in the area and the coordinator of the Regenerative Agriculture Project. He also works as an adviser for different farmers organizations, local associations and Non-profits. He speaks perfect English and will be in charge of the theorical lessons of this program and will also be the director of some of the practices.
Diego Tejedor was born in Spain and received his Sociology degree at the University of Madrid. He first came to Caimito as a volunteer, fell in love with the place and is now an active member of the community. He is highly committed to environmental conservation, the development of the local population and very interested on the ethical principles of Permaculture. He also speaks very fluent english. He is the coordinator of this program.
Rogelio Simbaña, Ecuadorian and  indigenous descent. In 2005, he obtained his diploma in Design and Consulting in Permaculture in the prestigious IPEC from Brazil. Since then, he has worked for indigenous people, nationally and internationally, in issues such as sustainable building, technical management of water, renewable energy, etc. He is a founding member of the Seed Guardian's Network of Ecuador, that works for the recovery and conservation of ancestral seeds.
Fabiola Mosquera was born in Caimito and is the current President of the Asociación Caimito Sustentable. She is an expert in ecological agriculture, especially in the cultivation of cacao and other fruits. Her role in this program is to teach the practical portions of the program by leading the mingas (collective work) in the agroecological farms.
Isidro Suárez has worked as a farmer for his entire life. A decade ago he had his first contact with Permaculture and since then has become an expert on different topics, such as ecological agriculture and sustainable building. He is in charge of directing the mingas in the agroecological farms.
Jorge Domínguez was born in the southern coast of Ecuador and is very committed to environmental conservation. He is our expert on issues related to the improvement of soil fertility as well as the restoration of watersheds. He assists in leading the mingas for volunteers to apply theoretical concepts in practice.
There is a very special group of people that will be working as consultants and, when they are in Caimito, also as teachers of some of the modules:
Ben Murray arrived to Caimito 10 years ago and shared and spread the deep permaculture knowledge he learned from his experience in the US and Brazil. He is an ecological designer and an expert in water systems, soil's fertility and also works in eco-construction.
Gregory Landua has B.S. in Environmental Science and Ethics from Oregon State University, and M.S. in Regenerative Entrepreneurship and Design from Gaia University.  Gregory's current work focuses on regenerative supply chain development for tropical ingredients.  He develops permaculture projects based on his profound understanding of relationships between ecological agriculture, the political climate and business.
Luke Smith is an ecological designer and educator with a deep commitment to landscape regeneration, ecological agriculture, food sovereignty and regenerative enterprise development. He holds a B.Sc in Biology from the University of Sussex and a M.Sc in Conservation Biology from University College London.