Isabela II Luxury Yacht
$3,150.00
Description
Yacht Isabela II offers the perfect, intimate space for exploring Darwin's islands in comfort. Traditionalists will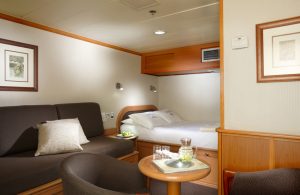 enjoy feeling at home with a crew that has remained almost unchanged for years, leading to seamless attention to detail that will make your stay extra special.
With just 20 guest cabins, the yacht's convivial atmosphere leads to a close-up experience of this unique world. On board, guests find delicious cuisine, faultless service and excellent facilities, including a Jacuzzi, fitness room, bar and outside deck for al fresco meals, drinks, and sunbathing.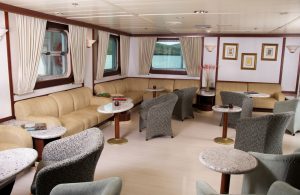 As on all our vessels, your groups can expect top facilities and equipment, delicious meals, and safe and stimulating expert-planned expeditions on the islands. Scout the island sites for Big 15 wildlife in groups that average no more than 11-14 guests per naturalist guide which surpass the National Park standard, which permits up to 16 guests per guide. Explore the coast with your guides on our pangas, glass-bottom boat or kayaks, or get wet and snorkel.
World-class expeditions.
Expert itineraries: Designed by naturalist guides and connoisseurs, our itineraries balance out the best islands and the most relevant species – an ideal Galapagos Big 15 wildlife experience.
Best itinerary for sensitive guests: The 4-night central islands cruise shows the best of the islands while avoiding long open water travel.
Small groups: On average, 11 guests per naturalist guide.
On-board expedition leader: Constant monitoring of island and sea conditions to ensure the best possible adventure experience.
Aquatic activities: Glass-bottom boat, kayaks, snorkelling, swimming, and panga–based coastal exploration
Opportunities for learning: State-of-the-art technology for multimedia presentations and natural history lectures as well as a traditional library.