During summer 2013, the YACHT ANGELITO I spent several months in dock for a complete remodeling: new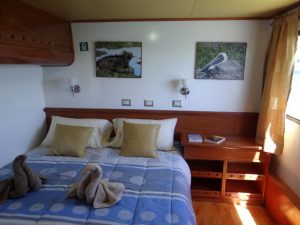 engines, more efficient and faster and generators and air conditioners were also replaced to latest models more ecological and less noisy.
All the cabins (8 in total),have been relocated to the main deck and now have lower beds that can be accommodated as two single beds or a double bed. Each cabin also has its private bathroom with shower
and hot water 24 hours. Angelito I provides soaps, hair dryer and towels.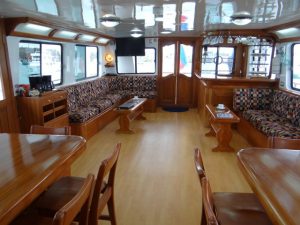 The excellent service on board that Angelito I had will continue the same, with good food, friendly crew and a guide that will teach the islands with professionalism, charisma and enough time to enjoy them.
*** Contact us for promotional prices on 2017!!! ***
– Prices.
Angelito I prices
Price 2017
Fuel surcharge

2017

Price 2018
Fuel surcharge

2018

8 days / 7 nights
$3,400
$145
Contact us
5 days / 4 nights
$2,300
$100
 Contact us
4 days / 3 nights
$1,500
$65
 Contact us
15 days / 14 nights
$6,200
$280
 Contact us
12 days / 11 nights
$4,950
$250
 Contact us
11 days / 10 nights
$4,600
$200
 Contact us
– Important Notes –
All rates are in US Dollars and per person.
Child discount: 20% of rate. Only applicable for children under 12 years.
Single supplement 50% of the net rate.
All rates mentioned are subject to change in the event of local tax increases or other unforeseen circunstances.
---
---
– Rates Includes:

Accomodation double cabins with private bathroom.

3 meals per day.

Water without gas, coffee, tea.

All visits to the islands with a bilingual English-Spanish Naturalist Guide.

Snorkeling equipment (fins size 35-45).

– No Includes:

Roundtrip Galapagos Airfare

Galapagos National Park Entrance Fee ($100 USD per adult)

Galapagos Transit card ($20 USD per person)

Soft and alcoholic drinks

Tips and other items of personal nature

travel/medical insurance

Fuel Surcharge
– Booking & Payments –
1.- For confirmation a deposit of 30% is required maximum 5 days after booking.
2.- The difference should be paid 60 days prior the departure date.
– Cruise Cancellation Policy –
1.- 31 or more days prior the departure – 30% of the total cruise rate will be retained.
2.- 30 or less days prior the departure – 100% of the total cruise rate will be retained.
*** Contact us for LAST MINUTE PRICES of 2.016 ***
ANGELITO I TECHNICAL INFO
Custom motor yacht for 16 passengers. Mixed construction with wooden hull and fiber, built in 1992 in Galapagos and totally refurbished in Guayaquil in 2013.
Technical specifications:
Category: Tourist Superior
Gross Tonnage: 152
Capacity: 16 passengers/ 8 double cabins
Length: 22.3 m/70 ft
Beam: 6.6 m /22 ft
Speed: 12 knots
Engines: 2 new (2013) CUMMINS (Marine Diesel), 405 HP each and 2100 RPM (2013)
Generators: 2 new (2013) CUMMINS CPG (Diesel) with capacity of 65KW/60HZ each
PureVent FUEL CLEANER: a radical new approach! Cleans the gas vented from engine crankcases using a centrifugal separation technology to remove oil mist and other particles to protect the environment
Electricity: 110 Volts in the cabins and in the bathrooms and 220 Volt sockets available in the social area
Water: desalinization machine with capacity of 65 gallons of fresh water per hour
Navigation and Safety equipment:
2 GPS, Magnetic Compass, radar with range of 36 miles, echo-sounders
HUNTER: Satellite GPS Monitoring, with digital maps and a real time monitoring
Control of all strategic points of the boat like engine rooms with cameras and monitor on the bridge
Safety Classification: SOLAS 74 (safety of life at sea) ISM an ISPS – MARPOL
Fire and smoke detectors in each cabin and all other areas of the Yacht
Life Jackets: 2 life jackets SOLAS in each cabin and several more in different strategic points of the yacht
2 Life Rafts: one for 16 passengers and the second for 12
2 Zodiacs: capacity for 10 passenger each, with ecological Yamaha motors with 25 hp each and propeller protectors
Crew: 8 (captain, first mate (steersman), machinist, 2 sailors, cook and auxiliary cook & multilingual naturalist guide)

Facilities on board:
Air condition in all cabins, social areas, kitchen, bridge and the engine room, with individual regulation and with compressors that have the newest technology with a certification for using in protected areas.
8 double cabins on main deck with, large picture window, private bathroom, individual air conditioning, safety box and hair dryer in each bathroom.
4 Decks: sun deck, upper deck, main deck and lower deck.
Water, tea and coffee included in cruise price.
Snorkeling equipment: mask, tube and fins with sizes 34- 45 included in cruise price.
Shorty wet suits in all sizes to rent on board.
Library with a good selection of books about the flora, fauna and history of Galapagos.
Deck Plan