– The vessel
A History like no Other.
Grace was originally built in 1928 by Camper & Nicholsons. She served in WWII as a submarine hunter and was then bought, refurbished and given to Princess Grace and Prince Rainier of Monaco by Aristotle Onassis. It was onboard this yacht that the newlyweds spent their honeymoon.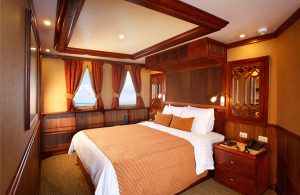 Outstanding Cabins & Social Areas.
The yacht has comfortable cabins. Multiple, diverse and spacious social areas, specially outdoors where Galapagos travelers prefer to be.
An Icon in the Galapagos.
She has become an icon in the Galapagos as her history, classic style and beauty have been artfully preserved, offering passengers a Galapagos experience like no other.
---
– Our crew
Hand Picked Crew Members.
For the past 3 decades, our crew members have been handpicked by the company's owners. Our experienced crew includes a dedicated cruise director and 2 naturalists on a full ship.
High Crew to Guest Ratio.
Grace carries up to 11 crew members and up to 2 guides for only 18 guests, allowing for highly personalized attention and an added flexibility in the day to day activities.
---
– The experience
A Complete Itinerary.
Comprehensive 7 night itineraries, which make your Galapagos cruise a more complete, worthwhile experience –
visiting all the major highlights of the islands.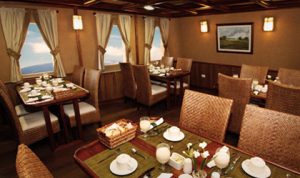 Kayaks, Snorkeling Gear & Wetsuits.
Use of kayaks, snorkeling gear and wetsuits (shorties) are included for all guests at no extra cost.
Meals & Preferences.
Our cruise director and kitchen staff cater to special dietary needs and preferences including veggie, vegan, kosher and more. Breakfast and lunch are buffet style and dinner is served either in the interior dining room or in the al-fresco dining area.
*** Contact us for promotional prices on 2017!!! ***
– Prices 2017
8 Day Galapagos Cruise
FIT REGULAR SEASON

JAN 1 – AUG 26 / DEC 11 – 31

FIT FALL SEASON

*AUG 27 – DEC 10

 Master Suites: A1 & A4
$7,650
$6,500
 Suites: A2 & A3
$7,150
$6,100
 Premium Staterooms: C1, C2 & C5
$6,750
$5,750
 Deluxe Staterooms: C3 & C4
$6,390
$5,450
– Prices 2018
Contact us for price information.
– Important Notes –
Single Supplement
• 75% surcharge applies on suites
• 50% surcharge applies on other cabins
14-Night Cruises
• A 10% discount will apply for second week of cruise
• If cruises are taken during Christmas, New Year or Easter, full
cruise price will apply
Christmas & New Year
• 100% Single supplement applies / No discounts for
children
• An additional $500 Holiday surcharge applies for FIT
(individual) passengers
• Private charter surcharges: M/V Evolution $10,000
M/Y Grace $6,500
Children Discount
• 15 yrs old and younger, 15% discount off above rates
(cruise only)
• Maximum of 3 children discounts per family per booking (no
exceptions)
• Not available during Fall Season
---
---
– Rates Includes:

All meals during cruise

All non-alcoholic beverages consumed

All activities during cruise: hikes, snorkelling, kayaking

Galapagos National Park Guide

All transportation during time in Galapagos

Snorkeling gear, wetsuits, kayaks

Fuel Tax

– No Includes:

Roundtrip Galapagos Airfare

Galapagos National Park Entrance Fee ($100 USD per adult)

Galapagos Transit card ($20 USD per person)

Gratuities & Tips to Crew and Staff

Bar consumption (alcoholic beverages) & items of a personal nature

Personal expenses

travel/medical insurance
– Booking & Payments –
Bookings Made:
– 76 days or more prior to departure:
A non-refundable deposit of 30% is due at time of booking.
– 75 days or less prior to departure:
A full, non-refundable payment is due at time of booking.
Important Note: The price of a cruise is based on double occupancy (2 passengers sharing a cabin). If The Passenger does not want to share and wishes to secure a cabin for themselves, they can do so by paying an additional single supplement fee as stated in 2016 pricing.
– Cruise Cancellation Policy –
The following cancellation penalties will be applied at the cut-off times indicated below:
– 66 days or more prior to departure:
All payments received are non-refundable.
– 65 days or less prior to departure:
The full price will be applied as cancellation penalty.
Take the 15 day itinerary and see all the best of the galapagos islands.
The most rewarding and complete way to experience the entire archipelago in its fullest is to take the 15 day itinerary.
This option gives you an opportunity to see all that Galapagos has to offer. You will be exposed to all the amazing wildlife encounters, all the endemic plants and species and you will be witnesses to the biology, geology, history and astrology that can be understood.
You will be guarantee to see everything the Galapagos have to offer and double your chances of spotting elusive wildlife such as orcas, manta rays, Galapagos hawk, all types of finches, penguins, dolphins and whales amongst others.
When visiting the Galapagos Islands for one week there are tradeoffs regarding the landing sites you can and can't see, in a place where one can encounter as great a variation crossing from one side of a bay or island to another, as traversing the entire archipelago. This has always been the case. Recently the Galapagos National Park decided to reduce the environmental impact on its 40 + visitor landing sites by requiring that yachts wait 14 days before returning to a given National Park visitor site. As a result of this ruling each of our yachts operates two different week long itineraries. These 8 day / 7 night itineraries run Saturday-to-Saturday and alternate each week. Through our complete itineraries, guests are able to see all of the Galapagos wildlife that made the Islands famous and inspired Charles Darwin's theory of evolution. You can also combine these itineraries back-to-back to experience one, all encompassing two week long voyage. If you only have a week to spend in the Galapagos you will be happy to know that there is no better or worse itinerary, just different. We continue to receive rave reviews for both itineraries aboard both our yachts. Passengers continue to have amazing animal encounters while experiencing the depth and breadth of what the islands offer including top notch landing sites on all itineraries. We have put a lot of effort into obtaining permits from the Galapagos National Park that allow our yachts to visit all of the most important sites on the Islands. Many cruise operators on the islands avoid the long navigations to save costs, but we are firm believers that a true Galapagos experience involves visiting the most remote islands as well.
Day 1: Saturday – Daphne Major Islet
AM
This morning we fly to Baltra Island in the Galapagos. Flight time is approximately 1½ hours. Upon arrival we board M/Y Grace where you will have lunch and a quick briefing en route to our first visitor site: Daphne Major Islet.
PM
We will circumnavigate Daphne Major Islet which is home to a variety of birds including Galapagos martins, blue footed boobies, nazca boobies, short eared owls, red billed tropic birds amongst others. (lunch, dinner)
Day 2: Sunday – Santa Fe Island & South Plaza Island
AM
Morning visit to Santa Fe Island, home to one of the most beautiful and sheltered bays of the archipelago, and to some of the best snorkeling – with its crystal clear waters. Certainly one of the best locations to see sea turtles, swim with sea lions and get a glimpse of the Galapagos White-tipped Shark. After a wet landing you will walk up to a nearby cliff to see the land iguanas through an area of Opuntia Cactus.
PM
In the afternoon we visit South Plaza Island and its land iguanas wandering through bright red carpet weed. We will see swallow tailed gulls nesting around the overhang tops and red-billed tropicbirds, frigatebirds and shearwaters flying with dancing displays. (breakfast, lunch, dinner)
Day 3: Monday – Genovesa Island: Prince Phillip's steps & Darwin Bay
AM & PM
Tower Island could serve as a film set for a secret submarine base! The southwestern part of the island is an ocean-filled caldera ringed by the outer edges of a sizeable and mostly submerged volcano. The island sits to the northwest, slightly removed from the Galapagos archipelago. It is also known as "Bird Island," a name it lives up to in a spectacular way! (breakfast, lunch, dinner)
Day 4: Tuesday – Fernandina Island: Punta Espinosa & Isabela Island: Urbina Bay
AM
In the morning we visit Fernandina Island, home to La Cumbre volcano, which erupts frequently (most recently in May 2005). We visit Punta Espinosa, a narrow spit of land, where a number of unique species, such as marine iguanas, sea lions, flightless cormorants, herons, egrets and Galapagos hawks can be seen in close proximity.
PM
Afternoon visit to Urbina Bay, directly west of Isabela's Volcano Alcedo, where we will make an easy, wet landing (a hop into a few inches of water). We walk on a stretch of three miles (5 km) of the marine reef that has been uplifted by as much as 13 feet (4 meters) out of the water. A highlight of this excursion are the giant land iguanas and giant tortoises, as well as the opportunity to go snorkeling amongst marine creatures, or just relaxing on shore. (breakfast, lunch, dinner)
Day 5: Wednesday – Isabela Island: Tagus Cove & Punta Vicente Roca
AM
Morning visit to Tagus Cove on Isabela Island. A wooden stairway rises to the trail entrance and continues around Darwin Lake through a dry vegetation zone, and ends in a promontory formed by spatter cones. The site provides spectacular views of our anchorage in the bay, as well as Darwin and Wolf Volcanoes.
PM
In the afternoon we head north to Punta Vicente Roca. Snorkeling is incredible here as a result of the nutrient-rich waters of the Humboldt Current that bathe the western side of the archipelago. We will have a chance to see colorful fish, sea lions, penguins and sea turtles in the water. This is also a great spot to take an interesting panga ride to spot wildlife along the shores and cliffs. (breakfast, lunch, dinner)
Day 6: Thursday – Santiago Island: Espumilla Beach & james Bay
AM
The short walk up the beach leads inland to a mangrove typically inhabited by the Common stilts. Beyond the mangroves is a brackish lagoon where flocks of pink flamingos and white cheeked pintails wade in search of mollusks. The trail makes a passes over a tiny hilltop through a sparse Palo Santo forest before looping back to beach. Galapagos finches and Vermilion fly catchers inhabit the area. The tuff formations that form the cliffs that surround the cove have created a natural sculptor gallery rising from the sea with formations including the Monk and Elephant Rock.
PM
Afternoon visit to James Bay, where we land on a black beach with intriguing eroded rock formations. A trail leads to a series of crystal-clear grottos formed of broken lava tubes, which are home to sea lions, fur seals, marine iguanas and tropical fish. Snorkeling in the late afternoon to at one of the best sites on the islands to see Green Sea Turtles and Galapagos Penguins swimming. (breakfast, lunch, dinner)
Day 7: Friday – Santa Cruz Island: Highlands and The Charles Darwin Research Station
AM
Santa Cruz is the second largest island in the Galapagos and its capital, Puerto Ayora, is the economic center of the Islands. In the morning we visit the Charles Darwin Research Station to visit the Giant Tortoise and Land Iguana Breeding and Rearing Program. Here we used to find Lonesome George (now deceased), the last of his particular race of tortoise.
PM
Afternoon visit to the Highlands, where the dry coastal vegetation transitions to lush wet fields and forests overgrown with moss and lichens. Our destination is the Tortoise Reserve, where we will have chances see these animals in the wild. (breakfast, lunch, dinner)
Day 8: Saturday – San Cristobal Island: Interpretation Center
AM
Today your Galapagos cruise comes to an end, but before we bid farewell to the Grace we visit the Galapagos National Park Visitor Centre that presents a comprehensive exhibit of the islands' natural history, human interaction, ecosystems, flora & fauna. From the Centre, a short trail arrives at Frigate Bird Hill, where both "magnificent-frigates" and "great-frigates" can be seen in the same colony. Next we return to the airport where we began our journey in the Galapagos for the flight back to the Ecuadorian mainland. (breakfast).
Day 1: Saturday San Cristobal Island: Lobos
AM
This morning we fly to San Cristobal Island in the Galapagos. Flight time is approximately 1½ hours. Upon arrival we board M/Y Grace where you will have lunch and a quick briefing en route to our first visitor sites: Lobos Beach and Kicker Rock..
PM
Lobos Island, across a small channel off the coast of San Cristobal Island, lives up to its name of -Sea Lion Island- with its noisy population of frolicking and barking beasts. This is your first chance to share the water with a playful colony of the "wolves of the sea". From lobos we head to Kicker Rock, a spectacular rock formation that rises 152 meters (500 feet) out of the Pacific. It takes the form of a sleeping lion, but from another angle you can see that the rock is split, forming a colossal tablet and, piercing the sea, a great chisel ready for etching.
After this visit you have time for a shower as we get ready for our welcome cocktail and our first formal briefing before dinner. (lunch, dinner)
Day 2: Sunday – Española Island: Punta Suarez & Gardner Bay
AM
Hood is the southernmost island of the archipelago, and is one of the most popular due to the breathtaking variation and number of fauna that inhabit the island. In the morning we visit Punta Suarez where you will witness the largest variety of marine iguanas in the Galapagos, masked boobies and blue footed boobies nesting along the cliff's edge, as well as the famous waved albatross.
PM
In the afternoon we visit Gardner Bay, a magnificent long white sandy beach, where colonies of sea lions laze in the sun, sea turtles swim offshore, and inquisitive mockingbirds boldly investigate new arrivals. (breakfast, lunch, dinner)
Day 3: Monday – Floreana Island: Post Office Bay & Cormorant Point
AM
Floreana Island: Cormorant Point & Champion Islet
Floreana has had a colorful history: Pirates, whalers, convicts, and a small band of somewhat peculiar colonists—a Baroness among them—who chose a Robinson Crusoe existence that ended in mystery and death. We visit Post Office Bay, where in 1793 British whalers set up a barrel as the island's Post Office, to send letters home on passing ships. The tradition continues to this day, simply by dropping a post card into the barrel without a stamp.
PM
Late morning walk to the Baroness Overlook for some striking views of the scenery surrounding Floreana Island. In the afternoon we visit Cormorant Point which offers two highly contrasting beaches; a green-olivine beach and an iron-red beach. Between the two beaches is a salt lagoon frequented by flamingoes, pintails, stilts and other wading birds. In the late afternoon we head to the tiny islet known as Champion, considered one of the top snorkeling sites the Galapagos and offers prime underwater sea lion interactions. (breakfast, lunch, dinner)
Day 4: Tuesday – Santa Cruz Island: Dragon Hill & Highlands
AM
After a dry landing at Dragon Hill, we head up the beach to a trail that takes us to a hyper saline lagoon. This is a seasonal haunt for pink flamingos. You will notice that as we make our way from the coast toward the top of the hill, there is a transition from intertidal vegetation like mangroves to dry zone vegetation including Palo Santo cactus and the silvery leafed Palo Santo trees. Keep your eyes open for the famous Darwin's Finches and Land iguanas in the bushes. The lava flows that reach out from the shore from Dragon Hill form black reefs where we will enjoy some excellent snorkeling late in the morning.
PM
In the afternoon we are off to the Highlands of Santa Cruz, where the dry coastal vegetation transitions to lush wet fields and forests overgrown with moss and lichens. Our destination is the Tortoise Reserve, where we will have chances see these animals in the wild, walk through lava tubes and see the Gemelos, twin collapsed craters. (breakfast, lunch, dinner)
Day 5: Wednesday – Santa Cruz Island: Bachas Beach & Chinese Hat
AM
In the morning we visit Las Bachas, a sandy white-coral beach that is a major egg-laying site for sea turtles. The name Bachas refers to the remains of landing craft left here at the end of WWII. Ashore marine iguanas mingle with flamingos and other wading birds in another of the many super saline lagoons found in the Galapagos.
PM
Chinese Hat Islet, a fairly recent volcanic cone, has the shape of a down-facing Chinese hat. On the rocky shoreline of nearby Santiago, Galapagos penguins are often seen. There is a small sea lion cove on the north shore, where boats anchor and land at the visitor site. Late afternoon snorkeling with sea lions and penguins and swimming opportunities in the cove. After this visit you have time for a shower as we get ready for our welcome cocktail and our first formal briefing before dinner. (breakfast, lunch, dinner)
Day 6: Thursday – Rabida Island: Jervis & Santiago Island: Sullivan Bay
AM
Rabida Island, also commonly known by its English name of Jervis Island, is known for its unique reddish-maroon terrain as a result of the oxidation of lava. It is home to large populations of sea lions, pelicans, flamingoes, as well as a thick forest of Palo Santo trees. A yellow saltwater lagoon is found behind the reddish beach, where vast numbers of brightly colored pink flamingoes can be seen lazying around male sea lions that have been ousted from their groups. Late morning snorkeling opportunity along the rocks with sea lions and tropical fish.
PM
Afternoon visit to Sullivan Bay, one of the most outstanding volcanic sites in the Galapagos. In the nearly 100 years since the Sullivan Bay Flow, only a few plants like Mollugo and Lava cacti have managed to take root in this harsh environment. Oystercatchers can be seen fishing for crabs and mollusks in the tide pools of Sullivan Bay. After exploring the lava flow, there is swimming and snorkeling with playful sea lions off two small coraline beaches. (breakfast, lunch, dinner)
Day 7: Friday – Bartolome Island: Pinnackle Rock & Overlook & North Seymour Island
AM
In the morning we visit Bartolome Island, famous for Pinnacle Rock, where we will see Galapagos Penguins and sea lions. We will also hike a trail to Bartolome's summit where you will be rewarded with spectacular views of Pinnacle Rock and our beach, where the crystal blue waters of the bay cradle your yacht.
PM
Afternoon visit to North Seymour, a good nesting site for frigate birds and Blue-footed boobies. The Island was lifted from the ocean floor by a seismic event, and its origins as a seabed give the island its low, flat profile. This island is teaming with life! You might have to give way to a passing sea lion or marine iguana; blue-footed booby nests sit beside the trail where mating pairs perform their courtship dance. A tiny forest of silver-grey Palo Santo trees stand just above the landing, usually without leaves, waiting for the rain to bring them into bloom. (breakfast, lunch, dinner)
Day 8: Saturday – Black Turtle Cove
AM
Today your Galapagos cruise comes to an end, but before we bid farewell to the Grace we visit Black Turtle Cove, a mangrove estuary on the northern shores of Santa Cruz Island. We visit the cove via panga (local dinghy) but with the engines turned off. Many rays, sea turtles, pelicans and other wildlife live among the mangroves.
Next we return to the airport where we began our journey in the Galapagos for the flight back to the Ecuadorian mainland. (breakfast).
M/Y GRACE TECHNICAL INFO
TYPE
Motor Yacht / Expeditions Vessel
L.O.A
145 feet / 44 meters
BEAM
22.1 feet / 7 meters
ENGINES
8 cylinder – Twin Deutz – 500 bhp ea.
GENERATORS
2 Caterpillar 75W ea.
BUILDER
Camper & Nicholsons: South Hampton, England
CRUISING SPEED
10-12 knots
ACCOMMODATIONS
2 Master Suites on Albert Deck – A deck
2 Twin or Queen Suites on Albert Deck – A deck
2 Double Premium Staterooms on Carolina Deck
3 Twin or Queen Premium Staterooms on Carolina Deck
CREW
9 crew members plus 2 naturalist guides (on a full ship) & 1 cruise director.
DINGIES
2 dingies (pangas/zodiacs) for 12 pax each
| | |
| --- | --- |
| NAVIGATION EQUIPMENT | 72 mile Furuno Radar 19-53 CBB Navnet, Furuno GPS satellite navigator system, Furuno Depth Sounder, Simrad HS50 Electronic Girocompass, speed and distance log, compasses, barometers, forward looking echo sounder. |
| ONBOARD SAFETY EQUIPMENT | EPIRB (Emergency Position Indicating Radio Beacon), 2 x 16 person open sea life rafts, life jackets, flares and signals, fire extinguishing system, and sprinkler system throughout the vesse. Safety Onboard equipment on board either meets or exceeds USA Coast Guard regulations |
| COMFORT EQUIPMENT | Air Renewal System, Air conditioning throughout, TV / CD / VHS/DVD , boutique, Jacuzzi |
| COMMUNICATIONS EQUIPMENT | UHF, VHF radio, Satellite Phones |
| ELECTRICITY | 110 volts AC / 60 Hz: 2 flat prongs |
---
DECK PLAN