Treasure of Galapagos Motor Catamaran welcomes you on board to discover with your own eyes the unique wonders of the Galapagos Islands. It will take you around the islands of the archipelago in privacy and comfort.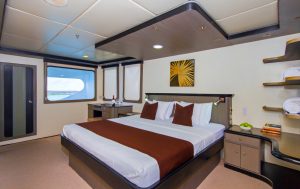 Treasure of Galapagos is one of the most comfortable motor catamarans in the Galapagos. Its large cabins (20 m2/ 215 ft2) with private facilities such as a balcony, guarantees privacy. Also exclusive experience in a comfortable way. The certified professional crew and the knowledgeable, bilingual naturalist guide on board will do their utmost to convert your once in a lifetime cruise into the trip of your life!
Motor Catamaran Treasure of Galapagos welcomes you on board to discover with your own eyes the unique wonders of this extraordinary archipelago. Very well-filled programs guarantee a refreshing sleep at calm anchorages as well (most nights). Being a mega catamaran, Treasure of Galapagos cruises more stable than conventional yachts and speedboats. Moreover, its 3 wide decks offer much private space for a maximum of 16 passengers.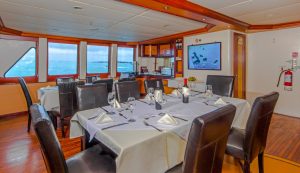 The Motor Catamaran follow well thought out routes with enough time to unwind from the well-filled excursion program. Each itinerary gives a good impression of Galapagos Islands and visits some of most popular sites. Cruise routes can easily be combined according to your available time and personal budget (4-14 nights aboard). The naturalist cruise programs are accompanied by an excellent naturalist guide and include a wide range of activities. Activities such as: guided hikes, inflatable dinghy-rides, snorkelling, as well as interesting visits to giant tortoise breeding projects, interpretive botanic trails and visitor's centres. You will be impressed observing, photographing and filming the incredibly tame and prosperous Galapagos wildlife from different perspectives. You will be closer to nature than ever before!
M/C Treasure of Galapagos takes the most interesting routes, which are carefully-planned. Needless to say the yacht also anchors at the islands along the fringes of the archipelago, such as Española, Isabela and Fernandina. These exclusive islands are pristine and make you eyewitness of evolution in process. Thanks to their isolated location its natural residents have evolved absolutely independently into new, sometimes bizarre creations. To observe waved albatrosses, red-footed boobies, flightless cormorants and Galapagos penguins (to mention just a few ), you must leave the heart of the archipelago and visit the remote islands.
*** Contact us for promotional prices on 2017!!! ***
– Prices 2017 and 2018.
Treasure of Galapagos Prices
Odyssey  2017 Rates
Standard Cabin
Odyssey  2018 Rates
Standard Cabin
5D/4N
$2,895
Contact us
7D/6N
$4,295
Contact us
9D/8N
$5,790
Contact us
11D/10N
$7,190
Contact us
15D/14N
$10,085
Contact us
---
 Treasure of Galapagos has a suite cabin in the main deck with special prices! Contact us for more information about this price.
WETSUIT RENTAL

NET RATES

15D/14N

11D/10N

9D/8N

7D/6N

5D/4N

Wetsuit Rental to be paid on board in cash only

USD 90

USD 66

USD 60

USD 36

USD 30
1. All equipments rental must be paid directly on board in cash (US Dollars).
2. To guarantee that we have the right wetsuit size on board, please confirm the required size maximum two weeks prior to departure.
3. Rental rates are subject to change.
– Important Notes –
1: All rates are in US Dollars and per person. VAT (IVA) is not included.
2: Single Supplement: 25% surcharge of net rate. Maximum 2 single cabins available per departure.
3: Single travelers are allowed to book a Twin cabin on sharing basis. The cabin will be shared with a same sex traveler.
4: Child discount: 20% of net rate. Only applicable for 1 child under 12 years of age travelling with two adults.
5: Children of all ages are accepted onboard but parents are held fully liable for any risk and/or responsibility.
6: All rates mentioned are subject to change in the event of local tax increases or other unforeseen circumstances.
7: The itinerary is always subject to change and cannot be guaranteed due to any unforeseen circumstances that may occur.
---
---
– Rates Includes:

Double/Twin cabin accommodation with private facilities.

All meals, Water, Coffee and Tea.

All excursions as mentioned in the itinerary (itinerary subject to change) with English speaking naturalist guide.

All transfers in Galapagos (airport-yacht-airport transfers in Galapagos are only included if the flight has been booked through us).

Snorkeling gear and use of kayaks at allowed sites.

– No Includes:

Roundtrip flight to Galapagos Islands (if the flight has not been booked through us a penalty fee of USD 35 pp applies).

Galapagos National Park entrance fee (USD 100 pp, subject to change).

Transit Control Card (USD 20 pp, subject to change).

Airport transfers in Galapagos (if the flight has not been booked through us an additional airport transfer to the yacht will have to be booked. If your own booked flight delays for any reason, additional speedboat costs may be applicable to take you to our yacht and an excursion can be missed)

Wetsuit rental.

Soft and alcoholic drinks.

Tips.

Travel and Medical insurance or other items of personal nature.
– Booking & Payments –
1.- For confirmation a deposit of 30% is required.
3.- Balance due must be completely paid 70 days prior the departure date.
– Cruise Cancellation Policy –
1.- Cancellation made after deposit we will retain US $300, for administrative
expenses per passenger.
2.- 120 – 91 days prior to departure – 30% of the total cruise rate will be retained.
3.- 90 – 61 days prior to departure – 70% of the total cruise rate will be retained.
4.- 60 days or less prior to departure – 100% of the total cruise rate will be retained.
*** Contact us for LAST MINUTE PRICES of 2.016 ***
Treasure of Galapagos has 3 combinations to cruise Galapagos Islands.
Itinerary A: Islets in the heart of Galapagos – 5 days / 4 nights – Tuesday to Sunday.
Itinerary B: Southeastern Galapagos – 5 days / 4 nights – Sunday to Thursday.
Itinerary C: To the remote West – 7 days / 6 nights – Thursday to Tuesday.
In the next link you can view the multiple itineraries and combinations: CLICK HERE!!!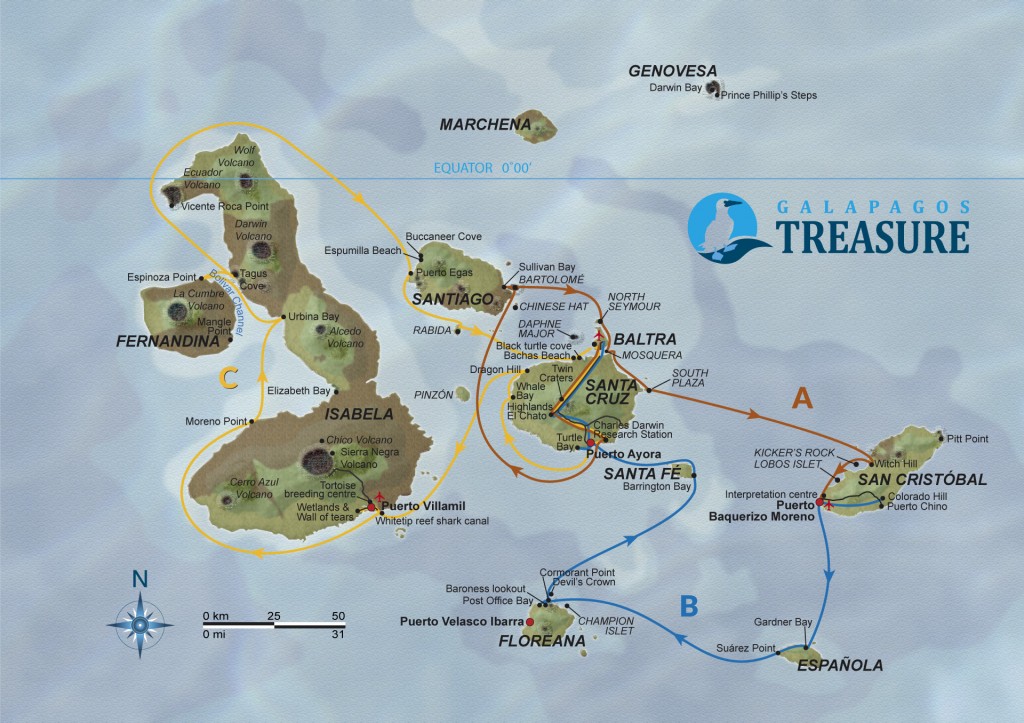 TREASURE OF GALAPAGOS TECHNICAL INFO
| | |
| --- | --- |
| Electricity | Treasure of Galapagos110 V / 220 V |
| Type | Motor Catamaran |
| Class | First Class |
| Construction year | 2009 (last maintenance 2015) |
| Capacity | 16 passengers |
| Naturalist guide | 1 National Park-certified multilingual naturalist guide |
| Crew | 10 experienced, trained and IMO-certified crew-members (International Marine Organization): captain, 2 first mates, 2 sailors, 2 engineers, 1 chef, 1 sous chef, 1 barman. |
| Length | 30.97m / 101.60ft |
| Width | 11.20m / 36.75ft |
| Number of cabins | 1 master suite & 8 cabins (2 double cabins, 6 twin cabins) |
| Social areas | Sun deck (shaded terrace & solarium area), shaded outside sitting areas, dining room, lounge/bar |
| Amenities | TV, DVD, small library, 2 small-sized 'Zodiacs' (inflatable dinghies) |
| Machinery | 2x Caterpillar diesel engine (2x 345 PS/HP) |
| Max/cruising speed | 11 knots / 9 knots (22,2 km/h 13.8 mp/h) |
| Generators | 2x 75 KW |
| Electricity | 110 V / 220 V |
| Cabine Location | Main deck: 4  twin cabins + 1 master suite (Triple)Upper deck: 2 double cabins and 2 twin cabins |
| Max speed  | 11 knots |
| Air conditioning | Individually controlled in all cabins |
DECK PLAN