La Selva Eco-Lodge and Retreat
Take advantage of our promotion!
About La Selva Eco-Lodge and Retreat
In the Amazon region of Napo province, in Northern Ecuador, you will find The Yasuni Biosphere Reserve, the most biodiverse area on the planet. It is an amazing and interesting area, placed at the convergence point of 3 unique regions: the Equator, the Western Amazon Basin and the Andes.
Located in this extraordinary reserve, 60 miles from Coca, La Selva Eco-Lodge and Retreat is one of the first lodges in Ecuador's Amazon rainforest. Considered to be among the best first-class ecolodges in South America, La Selva Lodge has been welcoming guests for more than 25 years. The lodge's cabanas are placed on a hillside, one mile from Napo River, and offer scenic views over the Garzacocha lake and the surrounding forest.
There is a variety of activities that guests can enjoy at La Selva Eco-Lodge and Retreat, including hiking by day or by night, kayaking, swimming, jungle camping, spa treatments and even yoga classes. Birdwatching is one of the highlights of a stay at the lodge, with a 125-foot observation tower at the guests' disposal and birdwatching tours. For those who want to interact with native people and learn more about their lives and customs, La Selva can organize visits to the Kichwa community.
The dining area is spacious and inviting, overlooking the lake, where guests will enjoy tasty international and local dishes, prepared with organic local ingredients, some from the lodge's own garden.
La Selva Eco-Lodge and Retreat is truly an ecolodge, supporting sustainable tourism, using solar energy in order to provide electricity and running water. It uses new engines with low emissions that consumes less fuel, the shower and bath products are natural and biodegradable, and the waste water is cleaned and then conserved.
The recent remodeling in 2021 of La Selva's suites and the updates on the restaurant and on the bar area, together with the inviting common areas, the spa treatments and the fascinating activities available, will transform your stay here in a luxurious experience.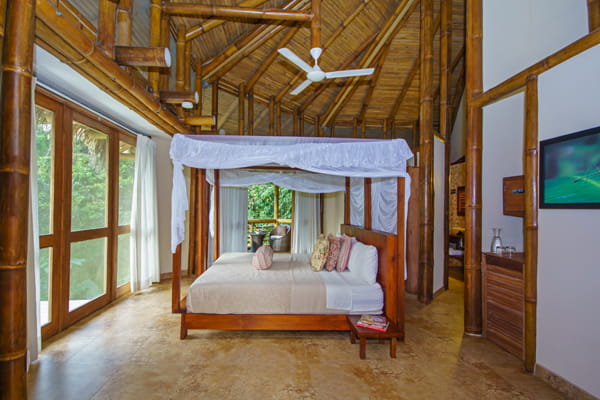 Activities in La Selva Eco-Lodge and Retreat
Why Stay at La Selva Eco-Lodge and Retreat?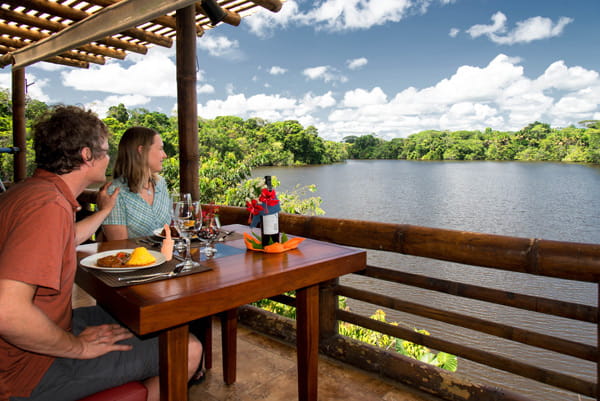 La Selva Eco-Lodge and Retreat can accommodate 50 guests in 19 roomy suites, including 3 Scenic Suites, 12 Superior Suites and 4 Family Suites. The thatch-roofed cabanas' design was inspired by the local people's homes, they blend perfectly into the surrounding rainforest and are extremely comfortable. Each suite has its own private bathroom equipped with hot showers, each bed has mosquito netting, and the open design, the large windows, together with the ceiling fans keep the air cool and fresh.
The Scenic and Superior Suites in La Selva Eco-Lodge and Retreat feature private balconies with panoramic views and rainforest showers, while the Family Suites have extra-large bathrooms, a private porch with a hot tub and hammocks. The lodge's sunny dock features lounge chairs and umbrellas, where guests can relax, enjoy a special spa treatment or take a yoga class.
The dining area is fully refurbished, with a fully stocked bar serving tropical drinks and al fresco seating with panoramic views of Lake Garzacocha and the surrounding forest. The lodge's restaurant provides organic food using natural and fresh ingredients, some from La Selva's own garden. Moreover, 80% of the food is purchased locally, from native communities. With a restaurant specialized in vegetarian meals and raw food, the menu includes international dishes, as well as local Ecuadorian ones, and upon request, they can accommodate special dietary needs.
Getting to La Selva Eco-Lodge and Retreat
Guests are met by a representative at Quito Airport (a hotel pick-up can also be arranged), to provide boarding passes for the next flight to Coca, available from Monday to Saturday. From Coca, guests will take a 2.5-hour trip down Napo River in a motorized canoe and, after a short walk through the jungle, they will cross the Garzacocha Lagoon in a paddle canoe. Upon arrival at La Selva Eco-Lodge and Retreat, they will be welcomed with a complimentary drink and greeted by a bilingual naturalist guide.
La Selva Eco-Lodge and Retreat | Luxury Amazon 8 Ecuador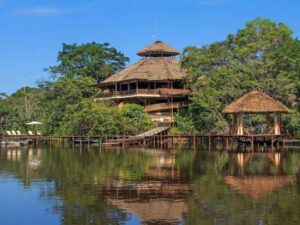 Take advantage of La Selva Eco-Lodge and Retreat promotion with Dana Tours LLC Mindo Ecuador in Las Terrazas de Dana Lodge Birdwatching Birding Cloud Forest
Product SKU: laselvaecolodgeretreat
Product Brand: Amazon Lodge
Product Currency: USD
Product Price: 1755
Price Valid Until: 2025-05-29
Product In-Stock: InStock