[vc_row][vc_column width="2/3″][vc_column_text]
Galapagos cruises when you visit the Galapagos Islands is not to be missed!. It is the highlight for many peoples trip when visiting not only Ecuador but the entire continent as well. The unique combination of fearless wildlife and outstanding scenery make for a truly memorable experience during your Galapagos Cruise.
When is the best time to book your Galapagos Cruise?
Well to be honest there isn´t a bad time to visit the islands in a Galapagos Cruise!. Being close to the equator the islands experience good weather year round. Having said that there are times of year when the islands are busier. The high season for Galapagos cruises is from July to August and again from December to January. During these times you can expect higher prices for a Galapagos cruise and larger crowds. It is also more difficult to grab a last minute deal however don´t let that stop you!
From December to May is generally the warmest time of year both on land and in the sea. During this time you can expect a little rain pretty much every day during your Galapagos Cruise. However as you wouldn´t expect this is actually the sunniest time of the year as well.
Through June to November there are more wildlife in terms of fish and birds. Visiting at these times in a Galapagos cruise you will be forced to brave the colder air and sea. During this time it is not uncommon for the weather to be cloudy and the seas rougher.
How can I go to Galapagos Islands?
The most frequent way to visit the Galapagos Islands is via a short flight. Approximately 1 hour 45 minutes from either Quito or Guayaquil. Guayaquil being marginally cheaper though only by around $20 when last I checked. The flights leaving from Quito will stop in Guayaquil first, adding at least 45 minutes flight time to the journey.
From speaking with other travelers our recommendation would be to fly from Quito to Galapagos Islands. The cost is similar and Quito is a much nicer city with more things to do before your flight. You can spend few days of relax in Mindo Cloud Forest in Las Terrazas de Dana Lodge. Why not to take few days of relax after your Galapagos Cruise in a luxury lodge?.
There are three main airlines that you can use to book your flight to the Galapagos Islands. These are: LAN, TAME and AEROGAL.
* Key Point:
It is advisable to fly into Quito at least a couple of days before your trip to the Galapagos Islands. We recommend that in order to avoid any problems with flight delays, cancellations, etc. This is especially important with Galapagos tours because you may end up missing several days of the tour. Then you probably haveto wait for the boat to reach a port closer to one of the islands.
What can I expect when I get there for my Galapagos cruise?
The Galapagos Islands are renowned for its fearless wildlife. The reason for this unique circumstance is that the local wildlife population has never had contact with humans until recently. Therefore they have never developed a fear for us, for example while you are doing your Galapagos cruise. This is fantastic for wildlife enthusiasts as you have the ability to get extremely close to wildlife. That could be both, in the sea if you book a Galapagos cruise and on land with a Land Tour.
What kind of wildlife can you expect to see on Galapagos cruises?
Here´s just a short list of some of the top animals: humpback whales, whale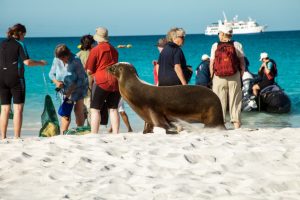 sharks, hammerhead sharks, waved albatross. Also blue footed boobies, green sea turtles, giant tortoises, land and marine iguanas, penguins, frigate birds. And of course sea lions you can find in a Galapagos Cruise!. Normally peoples favorite animals as they love to play in the ocean and are very curious.
What activities are in Galagos cruises?
The activities available in the Galapagos Islands aren´t just limited to diving and snorkeling. Also there is the possibility to go fishing, hiking, biking,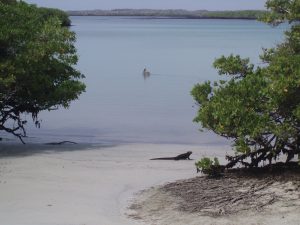 surfing, kayaking, horseback riding and volunteering.
– Galapagos Cruise tours vs Galapagos Land tours.
Taking a Galapagos cruise is the best way to visit the more remote islands in the Galapagos Islands. One of the advantages in taking a Galapagos cruise is that you get to see the entirety of the archipelago. On 8 day itineraries you will have the opportunity to see some of the remote uninhabited islands such as Fernandina.
Another benefit of taking a Galapagos cruise is that you don´t need to worry about catching the next boat or waking up early all the time. Additionally you don't need to invest your time researching the best islands and developing a comprehensive itinerary. This is all taken care of for you. Simply arrive on board and relax in your Galapagos cruise.
When you have limited time to enjoy the Galapagos Islands you want to be as time efficient as you can. Therefore a further benefit with a Galapagos cruise is that the journey continues while you sleep. Therefore no hours are wasted during the day jumping between islands.
There are various different Galapagos cruise options available normally with seven to ten day itineraries. Visiting the Galapagos is a once in a lifetime experience. Probably you don´t want to feel like you barely scratched the surface!
If you prefer to keep your legs on land, there is the opportunity to visit the Galapagos Islands with a land tour. Solely with land based Galapagos tours and short Galapagos cruises. This does offer the benefit of increased flexibility and freedom. There are still many activities available around the main islands and on land such as hiking, horse riding and biking.
Galapagos Cruise
is not to be missed when you visit Galapagos Islands!.[/vc_column_text][/vc_column][vc_column width="1/3″][tour_category_images title_underline="on" ignore_empty="on" slides_number="1″ order="ASC" orderby="name" title="Galapagos Cruises" sub_title="Check out our recommended" category_ids="55″][vc_empty_space height="18px"][tours_grid title_underline="on" description_words_limit="20″ tour_category_ids_condition="IN" show="" number="1″ price_style="default" show_categories="on" btn_more_text="View more" order="DESC" orderby="date" tour_ids="1700″ columns="1″][vc_empty_space height="18px"][tours_grid title_underline="on" description_words_limit="20″ tour_category_ids_condition="IN" show="" number="1″ price_style="default" show_categories="on" btn_more_text="View more" order="DESC" orderby="date" tour_ids="1676″ columns="1″][vc_empty_space height="18px"][tours_grid title_underline="on" description_words_limit="20″ tour_category_ids_condition="IN" show="onsale" number="1″ price_style="default" show_categories="on" btn_more_text="View more" order="DESC" orderby="date" tour_ids="2053″ columns="1″][vc_empty_space height="18px"][tours_grid title_underline="on" description_words_limit="20″ tour_category_ids_condition="IN" show="" number="1″ price_style="default" show_categories="on" btn_more_text="View more" order="DESC" orderby="date" tour_ids="2129″ columns="1″][/vc_column][/vc_row][vc_row][vc_column][tours_grid title_underline="on" description_words_limit="40″ tour_category_ids_condition="IN" show="" number="8″ price_style="default" show_categories="on" btn_more_text="View more" order="DESC" orderby="rand" title="Recommended Galapagos Cruises" tour_ids="1676, 1700, 1755, 1726, 2011, 2053, 2094, 2129″ columns="4″][/vc_column][/vc_row]