Take advantage of our promotion!
About NAPO WILDLIFE CENTER
A tour through the lush Amazonian rainforest offers a truly unforgettable experience as you explore one of the most bio-diverse ecosystems on the planet. It is all about getting a glimpse of the diverse, untamed wildlife of the area and being enveloped in all the drama on one of the planet's greatest theatres, where every angle is unique, and every moment is personal, making the experience a feast for the senses. Tucked away in this unique ecosystem and surrounded by wildlife in the heart of the Yasuni National Park, considered the world's most biodiverse place, is located the Napo Wildlife Center, owned and operated by the indigenous community Añangu.
The Napo Wildlife Center is basically an exquisite lodge that's located deep in the heart of the Amazon rainforest. Its pristine location makes it the perfect spot to explore and experience all that the great Amazon has to offer. Wildlife sightings around the area include various primates, several species of frogs, butterflies and insects, snakes, black caimans, tent bats, three kinds of Macaws, parrots, parakeets, raptors, and many, many other birds.
When visiting Napo Wildlife Center, guests can take part in the engaging activities organized here, like excursions in the forest, canoeing, kayaking and birdwatching tours. Upon request, they can even guide guests to hiking trails, specific to one's abilities and interests.
Napo Wildlife Center is truly a luxury class ecolodge, designed to keep the impact on the environment at minimum. They use solar panels to generate energy, industrial batteries, and all water is processed to maintain a healthy environment. The lodge's 20 cabins are built on the banks of the Añangu Lake, offering spectacular views over the surroundings. There are also many observation platforms, including a central tower that features amazing panoramic views.
This eco-community will offer you a unique experience, and you will be enjoying first-class facilities in the middle of Amazon's unparalleled landscapes, with its fascinating wildlife.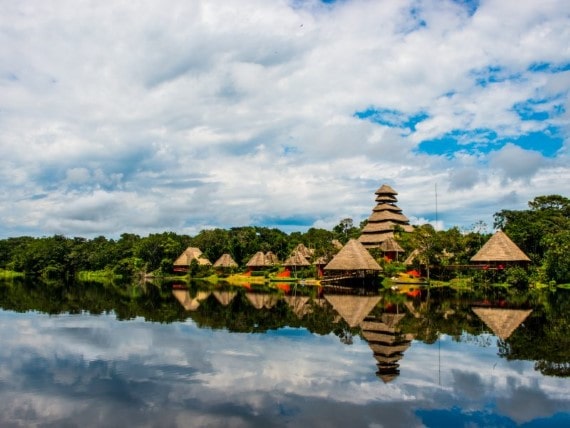 Activities in Napo Wildlife Center
Why Stay at the Napo Wildlife Center?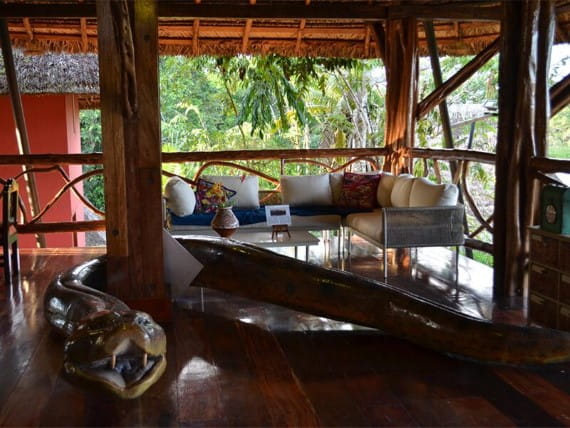 Napo Wildlife Center has a capacity of 40 people in 20 cabins, including 12 double/triple standard cabins and 8 suites. The cabins (rooms) are spotless, spacious, comfortable, airy and the king-size beds are equipped with a mosquito net. Each room has a bathroom with hot water, fans, a private balcony, and 24/7 uninterrupted electricity thanks to solar panels.
All rooms have a porch with seats that allow guests to enjoy stunning views of the picturesque lake. The suites come with a minibar, a waterfall shower and even a jacuzzi. There's also a laundry service that comes at an extra fee.
The main hall area is where visitors and staff can sit together, dine and tell each other stories of their adventures. There are also several social areas located in the main hall, including a fully stocked bar and a library.
The restaurant is perched atop a 20ft observation tower and provides breathtaking 360-degree views of the surrounding forest and lake. Groups are able to mingle at any time at the lodge and often do so at the bar before or after mealtimes.
The food service at Napo Wildlife Center is high-quality, offering a mix of international and local dishes, prepared by the lodge's professional staff using organic ingredients. Breakfast and dinner are served buffet-style, while lunch is plated, consisting of an appetizer, the main course, dessert and soft drinks. Guests can drink unlimited water, coffee or tea from the available coffee station.
Getting to the Napo Wildlife Center
From Quito, visitors embark on a 30-minute flight to Coca. They are brought from the port of La Misión in Coca to Napo Wildlife Center in a motorized canoe operated by expert guides via the Napo River, which snakes down from the El Coca Town and is a 2½ hour boat ride. During the trip to Napo Wildlife Center, visitors are provided with bottled water and snacks.
Napo Wildlife Center | Luxury Amazon Lodge 8 Ecuador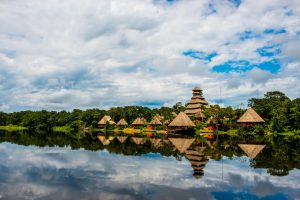 Take advantage of Napo Wildlife Center promotion with Dana Tours LLC Mindo Ecuador in Las Terrazas de Dana Lodge Birdwatching Birding Cloud Forest
Product SKU: napowildlifecenter
Product Brand: Napo Wildlife Center
Product Currency: USD
Product Price: 1425
Price Valid Until: 2025-11-25
Product In-Stock: InStock