Finch Bay Galapagos Hotel
Take advantage of our promotion!
About Finch Bay Galapagos Hotel
The Galapagos Archipelago is a unique destination, a spectacular place with a surprising landscape and an even more surprising flora and fauna. Declared a UNESCO Natural World Heritage, the 19 islands of Galapagos allow visitors to witness their process of formation with their dynamic volcanic and seismic landscape, and also discover a variety of fascinating animals that seem to have lived here before mankind. Giant tortoises, sea lions, marine iguanas, and the famous finches that inspired Darwin's theory of evolution are just some of the amazing creatures you can stumble upon on the Galapagos islands.
One of these islands is Santa Cruz Island, the second largest in the archipelago with a large variety of vegetation and the largest human population of the islands, living mainly in Puerto Ayora. Santa Cruz Island's capital, Puerto Ayora is the most populated town of the archipelago and Galapagos' urban center, with many coffee shops, restaurants, bars, souvenir shops, banks, and ATMs.
Located next to the only public beach in Puerto Ayora, Finch Bay Galapagos Hotel has an excellent position on Santa Cruz Island, being close not only to the beach or the town's shopping district, but also to the island's main attractions, including Tortuga Bay beach, Charles Darwin Research Station, Santa Cruz highlands and Las Grietas, a top snorkeling site.
Included in National Geographic's collection of 'Unique Lodges of the World', Finch Bay Galapagos Hotel is an eco-friendly retreat just a short stroll away from the beach, surrounded by Galapagos' fascinating flora and fauna. It features comfortable spaces, both inside and outside, and it can accommodate up to 52 guests in 21 rooms and 6 suites with direct ocean view. All rooms have their own hammocks on private or shared porches and balconies, they are air-conditioned, with en-suite bathrooms fitted with hot-water showers and hair dryers. Guests can also enjoy the large outdoor pool, Finch Bay's Spa, the fully-equipped gym, or the hotel's yoga deck.
With its own motor yacht, Finch Bay Galapagos Hotel offers a variety of land and sea itineraries and expeditions in Galapagos, including snorkeling, kayaking, diving, yacht explorations, guided activities and tours on the islands, mountain biking, and even cocktail preparation or ceviche cooking lessons. Surrounded by wildlife, guests can always spot animals like giant tortoises or iguanas, or spend time birdwatching. Finch Bay Galapagos Hotel offers a perfect blend of comfort, relaxation, and adventure in the middle of an amazing and picturesque scenery.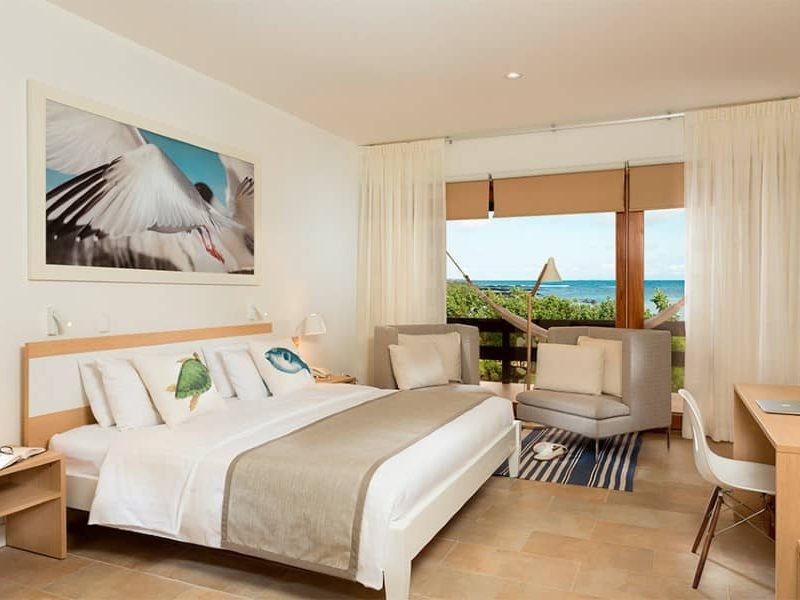 Activities in Finch Bay Galapagos Hotel
Why Stay at Finch Bay Galapagos Hotel?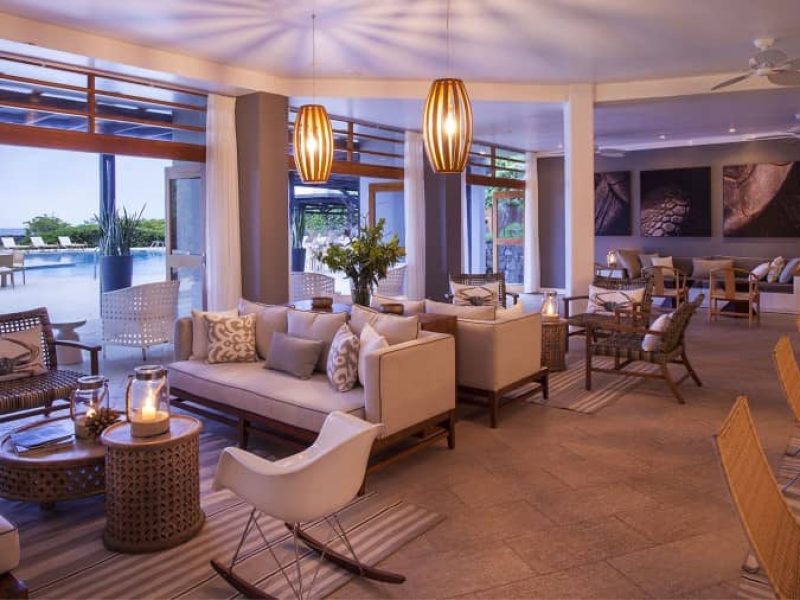 Finch Bay Hotel can accommodate up to 52 guests in 21 rooms and 6 suites, all comfortable, fitted with black-out curtains and air-conditioning. The rooms have shared porches or balconies, and they are placed in a ring, connected by a wooden walkway through the hotel's gardens. The suites have private balconies and a direct ocean view, and they are ideal for families or large groups, as 4 of them are interconnected. All rooms come with their own hammock and they all have en-suite bathrooms fitted with hot-water showers and hair dryers.
The Finch Bay Spa is located near the beachside and guests benefit from authentic treatments and massages from the hotel's specially trained therapists. A fully-equipped gym and a yoga deck are also at the guests' disposal.
The Finch Bay Hotel Restaurant is a perfect venue for daily meals, with the sounds of the ocean in the background, but also for special occasions. All dishes are prepared with fresh and organic ingredients, with herbs and vegetables grown in the hotel's own garden. There are options available for all dietary preferences, including vegan, vegetarian and even kids' menus.
For special occasions, the restaurant hosts romantic poolside dinners or ceviche cooking classes. The hotel also has its own mixologist, so guests can enjoy delicious cocktails with unique and surprising combinations.
Getting to Finch Bay Galapagos Hotel
From Quito, guests take a flight to Baltra airport and then a 45-minute journey to Santa Cruz Island across the channel and then by land to the port of Puerto Ayora. The hotel has its own "water taxi" that takes guests from the Municipal dock to the Finch Bay hotel's dock. After disembarking, the hotel is a short walk away.
Finch Bay Galapagos Hotel | 8 Best Programs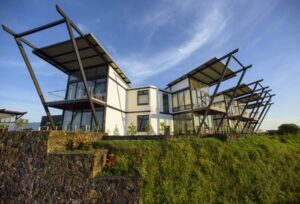 Finch Bay Galapagos Hotel is an awarded luxury Hotel in Galapagos Islands. Book with Dana Tours your stay.
Product SKU: finchbay
Product Brand: DANA DMC
Product Currency: USD
Product Price: 678
Price Valid Until: 2025-11-25
Product In-Stock: InStock