Limoncocha Biological Reserve & Harpy Eagle Birding Tour
Add on Private Tour that can be extension from our other tours
José, natural from Limoncocha and one of the local community naturalist guides we support in this extension, discovered a Harpy Eagle nest in 2017. Since late 2020 a second nest was established in the area. It is located in a high priority are for conservation in the Amazonian Rainforest of Ecuador. Limoncocha Indigenous Community is well organized helping the Limoncocha Biological Reserve to protect this conservation area.
In Limoncocha Biological Reserve extension, we will be able to visit Harpy Eagle Reserve, Limoncocha Lagoon by canoe, Limoncocha surroundings, , Napo Islands by boat and Scarlet Ibis and Cattle Egret overnight grounds. Also available night canoe to see caimans and fireflies.
Harpy Eagle nest is easy to access since it is around 20 minutes ride by boat in Napo River and another 15-20 minutes walking in a nice flat and easy trail (600 meters). We already visited in September 2021 in dry season, and it is very accesible. In rain season, it could be needed a small canoe if you don't want to get wet which will be another amazin experience in your birding tour.
This is a really good extension for our tours and we can adapt the itinerary to any other tour we organize. We recommend to stay 2 or 3 nights in the area in case it is needed to visit Harpy Eagle Reserve several times.
The Limoncocha Biological Reserve is located in Ecuador, 229 miles from Quito, on the northern shore of the Napo River, and it is considered to be one of the most bio-diverse sites in the world, with unique flora and wildlife. There are more than 450 identified bird species, many of them endemic to this area, making it an amazing and fascinating place, perfect for birdwatching tours and photography bird tours. It is also home to many species of mammals and reptiles, including the black caiman.
The reserve protects a 4,613 ha area of wetlands and swamps, and the Limoncocha lagoon, known to be an excellent birdwatching site. In your birding or photography tour, you can spot birds like the Azure Gallinule, Red-capped Cardinal, Black-capped Donacobius, Long-billed Woodcreeper, Ringed Woodpecker, Rufescent Tiger-heron, Snail Kite, Spot-breasted Woodpecker, Striated Heron, Tropical Screech-Owl, Wattled Jacana, Purple-throated Fruitcrow, Striated Heron, to name just a few of them.
Get ready to take amazing photos on your tour through the forest, but also from the canoe, as you'll be exploring Limoncocha by canoe as well. You'll also be able to see one of the most sought-after birds at Limoncocha Biological Reserve, the Harpy Eagle, one of the largest species of eagle in the world and the most powerful predator in the Americas. With a wingspan between six to seven feet and talons that can match the size of a grizzly bear's claws, adult harpy eagles weigh from 9 to 20 pounds.
Classified as Near Threatened by BirdLife International, sightings of this impressive bird are rare, so you'll have a unique opportunity on your birdwatching tour in the Limoncocha Biological Reserve. Starting with the lagoon, the flora, the routes and the great photographs on your birding tour, this area will create an unforgettable experience for you.
DEPARTURE / RETURN LOCATION
Discover Limoncocha Biological Reserve & Harpy Eagle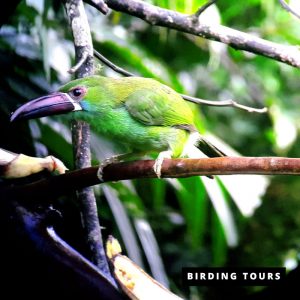 The Limoncocha Biological Reserve in Ecuador is one of the world's most bio-diverse places, a birding reserve where the impressive harpy eagle can be sighted.
Product SKU: limoncochareserve
Product Brand: Limoncocha Reserve
Product Currency: USD
Product Price: 700
Price Valid Until: 2025-11-25
Product In-Stock: InStock