Take advantage of our promotion!
Within the Metropolitan District of Quito you can find Mashpi Reserve, a biodiverse area home to an abundance of plants and animals. The reserve's rainforest is the habitat for a large variety of birds, more than 500 species, 36 of which are endemic, and mammals like monkeys, peccaries, and even pumas. This 2,500-hectare reserve is part of one of the most biodiverse areas in the world, the rainforest in the Chocó-Darién region, between the Pacific coast and the Andes mountains. Only a 3-hour drive from Quito, the Mashpi Reserve is one of the last remaining Ecuadorian cloud forests, offering amazing sceneries of lush forest, green hills, and crashing waterfalls.
Located on a picturesque plateau within the Mashpi Reserve, Mashpi Lodge offers a great Ecuador rainforest experience, featuring amazing views and a total immersion in the surrounding forest and its unique ecosystem. It is a truly spectacular site, with altitudes ranging from 1 640 to 4 000 ft, a transition that puts together both tropical and subtropical climates, featuring an amazing variety of flora and fauna. On the site of a former lumber mill, Mashpi Lodge was built using sustainable construction technologies, designed in perfect harmony with the natural environment and to prevent damage to the forest.
Mashpi Lodge's rooms and suites have floor-to-ceiling windows, immersing guests into the breathtaking views of the surrounding forest, while enjoying the luxuries of the retreat. To assure the comfort and rest of their guests, Mashpi Lodge has fitted all rooms with sound-proofing technology and control systems for temperature and humidity. The pergola-style roof, the outdoor seating, the open-air terrace and the viewing platform allow guests to enjoy the surrounding nature and even to spot some local birds.
Mashpi Lodge also features a spa offering massages, beauty treatments, a hot tub and a yoga space for guests to unwind. Mashpi Lodge's Expedition room and laboratory allow guests to get information about the reserve, the conservation efforts and the undergoing projects. The Life center, 20 minutes away from Mashpi Lodge is an incredible place, where guests can relax on the wooden deck or even have breakfast in the middle of nature.
What makes the stay at Mashpi Lodge even more memorable are the activities, starting from hiking on a variety of trails, surveying the forest from the observation tower, visiting the waterfalls, to enjoying an aerial experience on the Dragonfly, an open-top cable car, or exploring the tree canopy on the SkyBike, pedaling along a suspended cable above the forest. Everything together makes staying at Mashpi Lodge a once-in-a-lifetime, unforgettable experience.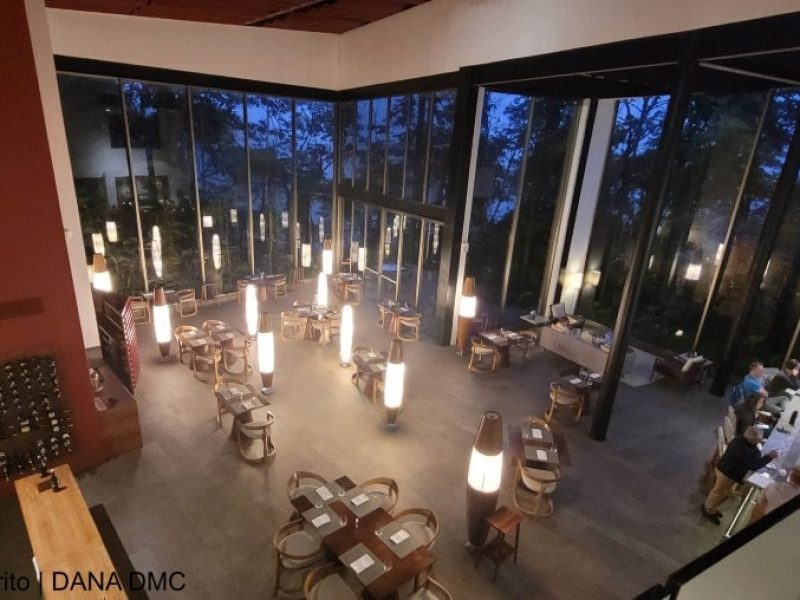 Activities in Mashpi Lodge
Why Stay at Mashpi Lodge?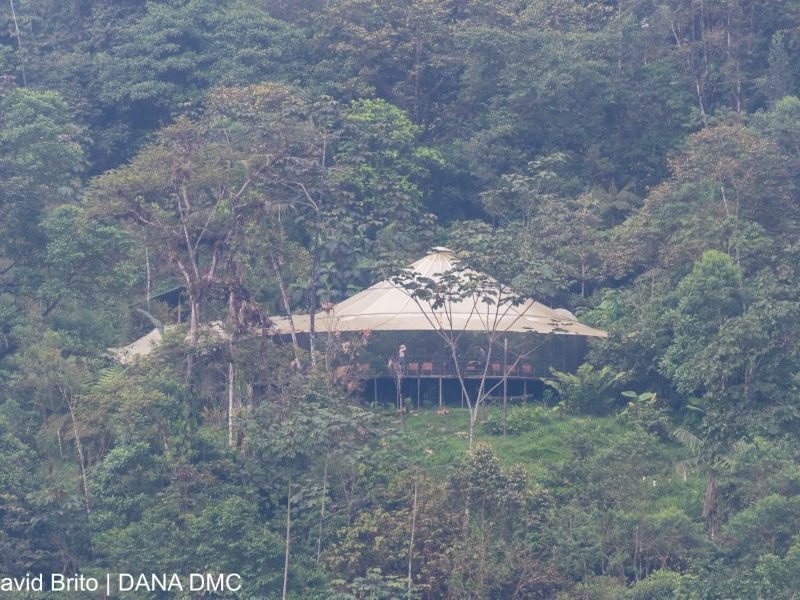 Mashpi Lodge can accommodate 47 guests in its rooms & suites, including Wayra rooms, ideal for families and large groups, with interconnecting rooms, the Wawa Room, coming with special rates for a single adult, and 3 Yaku Suites, ideal for couples. All rooms have floor-to-ceiling windows, that allow guests to feel in the middle of nature, but while also enjoying the retreat's luxuries. They all feature automatic blinds, sound-proofing technology and control systems for temperature and humidity.
Mashpi Lodge has a two-story dining room with an amazing view over the surrounding scenery, as well as a bar where guests can enjoy a cocktail or a fine wine.
The lodge also features a wellness area with 2 massage rooms, a covered open-air hot tub and a yoga deck.
At Mashpi Lodge guests can enjoy gourmet dishes from Ecuador's cuisine, all accompanied by fine wines and exotic cocktails. For breakfast, guests can choose from a variety of cheeses, hams, breads, eggs, cereals, granola, homemade jams and fresh local fruits.
For lunch, the lodge offers a light mix of international and Ecuadorian dishes, topped with a delicious dessert. Dinner is more formal, in the two-story dining room, with exquisite dishes from Ecuadorian cuisine.
 Mashpi Lodge is actually in the Metropolitan District of Quito, 60 miles northwest of Quito. There is a 3.5-hour drive to get from Quito to the lodge.
Our Pre-defined Programs with Las Terrazas de Dana Boutique Lodge & Spa
Mashpi Lodge | National Geographic 8 Amazing Unique Programs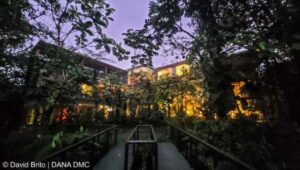 The most luxurious and sustainable Eco Lodge in the Andean Choco. The Evolution of Luxury Eco Adventure. Book with Dana Tours your stay Mashpi Lodge.
Product SKU: mashpilodge
Product Brand: DANA DMC
Product Currency: USD
Product Price: 1450
Price Valid Until: 2022-11-25
Product In-Stock: InStock