Take advantage of our promotion!
In the Pacific Ocean, 1,000km from South America, you can find the Galapagos Islands, one of the most spectacular places on earth, a living museum, comprising 19 islands and their surrounding marine reserve, a UNESCO Natural World Heritage. Visiting the islands offers a truly life-changing experience, as you can actually witness the process of the islands' formation, with the ongoing volcanic and seismic activity, and also discover unique and fascinating animal species. Darwin's theory of evolution was inspired by the Galapagos finches, which he observed during his visit to the islands in 1835.
At the center of the Galapagos archipelago lies Santa Cruz Island, the second largest in the archipelago, visited by almost all travelers on their tour or cruise of the Galapagos islands. Located on Santa Cruz Island, on the edge of an inactive volcanic crater, you can find Pikaia Lodge, offering some of the most breathtaking views in Galapagos. Placed inside a private giant tortoise reserve, the lodge has an area of 31 hectares, with zones transitioning between volcanic highlands with tropical forests and bright, arid savanna. Pikaia Lodge's name comes from an extinct species, Pikaia Gracilens, the oldest known ancestor of modern mammals, the first species to have evolved into a vertebrate.
Pikaia Lodge has a modern, environmentally conscious design, using alternative energy sources, a perfect mix between elegance and ecology. This spacious lodge features 12 rooms and 2 suites, including 6 terrace rooms, 6 balcony rooms, a garden suite, and a pool suite. All rooms have floor-to-ceiling windows, offering panoramic views over the breathtaking scenery.
Breakfast and dinner are served in the lodge's ""Evolution"" Restaurant, overlooking the National Park, while lunch can be enjoyed on the lodge's shaded desks. The menu offers a unique fusion of international and traditional Ecuadorian dishes. Pikaia Lodge also features facilities like the DNA Bar, a lobby lounge, shaded terraces, a pool area, the ""Homo Sapiens"" Explorers Lounge for nature talks, a wellness center and a gym.
Guests can enjoy a plethora of activities on land, like hiking, wildlife observation or mountain biking, and on the sea, like swimming, snorkeling, sea kayaking and scuba diving. Pikaia Lodge offers Exploration Packages, for 3, 4, or 7 nights. Pikaia Lodge has its own 105ft private yacht and a 35ft boat, used for tours and sea activities. This luxury eco-lodge will provide a unique experience in the middle of one of the world's greatest wonders.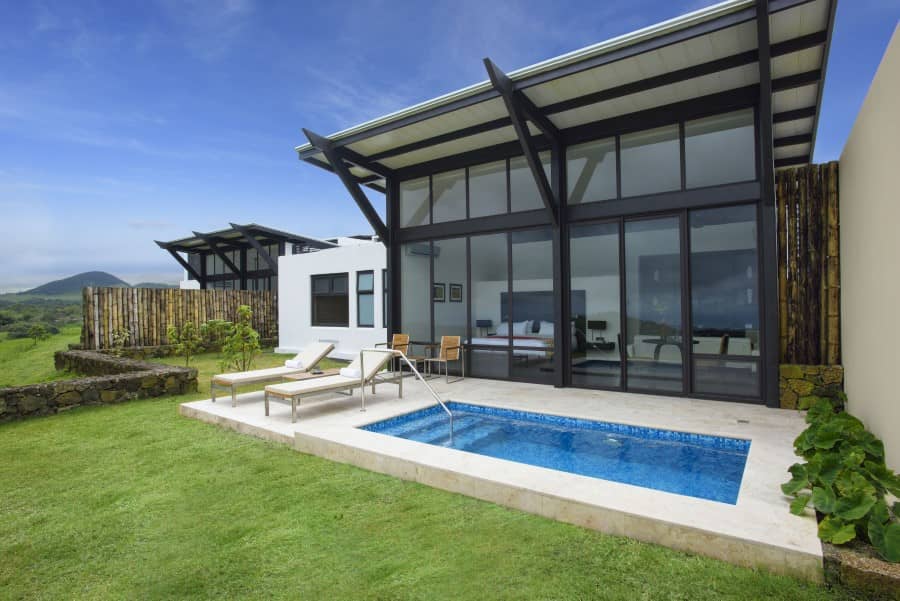 Activities in Pikaia Lodge
Why Stay at Pikaia Lodge?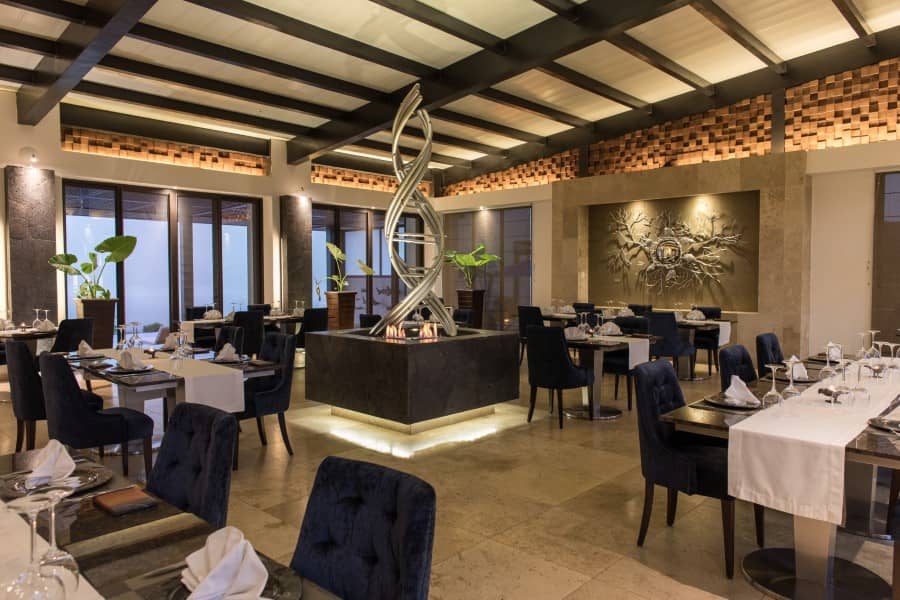 Pikaia Lodge has 6 terrace rooms on the ground floor with access to private shaded terraces and 6 balcony rooms on the first floor with access to shaded balconies. There are also 2 suites, a 74 sq. m. garden suite on the ground floor with access to a terrace with a private garden, and a 74 sq. m pool suite that has its own plunge pool and private garden on the terrace.
All rooms have floor-to-ceiling windows with panoramic views over the surrounding scenery, a contemporary design and they are naturally well-lit and ventilated, with floors made of bamboo wood. They are all fitted with air conditioners and ceiling fans.
Each room has a large bathroom with walk-in closets, a bathtub, and a shower.
There are several social areas that guests can enjoy, including the Lobby Lounge and the DNA Bar, perfect for relaxation and sharing one's adventures and discoveries, as well as enjoying a cocktail. Guest conferences and lectures are held in the Homo Sapiens Explorers Lounge in the main building.
Pikaia Lodge offers a high-quality culinary experience, with a variety of dishes, from the local traditional cuisine, as well as international flavors. Breakfast is served in the Evolution restaurant, and guests can choose from a variety of options, healthy treats, as well as fresh natural detox drinks.
Lunch and dinner offer a mix of Ecuadorian and international cuisines, and guests can enjoy lunch on the shaded desks, while dinner can be served under the stars in a romantic atmosphere, next to a firepit and the infinity pool. Dinner menus are alternated every two days during the week. Pikaia Lodge has its own walk-in wine cellar with some of the best South-American wines. Cocktails and local drinks can be enjoyed at the DNA Bar, a perfect place to unwind after an adventuresome day.
From Quito, visitors embark on a 3-hour flight to Baltra Airport with a stop in Guayaquil airport or, if they arrive from Guayaquil, a 1.5-hour flight to Baltra Airport. From there, guests will be transferred to Pikaia Lodge in a 40-minute boat and road trip.
Pikaia Lodge | Galapagos Islands 8 Best Programs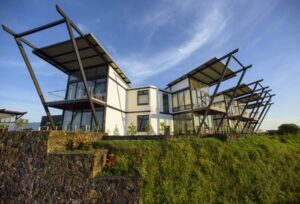 The most luxurious and sustainable Eco Lodge in the Galapagos Islands. The Evolution of Luxury Eco Adventure. Book with Dana Tours your stay in Pikaia Lodge
Product SKU: pikaialodge
Product Brand: DANA DMC
Product Currency: USD
Product Price: 4305
Price Valid Until: 2025-11-25
Product In-Stock: InStock