Take advantage of our promotion!
There is no better way to experience the full grandeur of Mother Nature than visiting the mighty Amazon Rainforest, the largest rainforest on the planet, a place of superlatives and home to 10% of the world's species. It is the Amazon that served as an inspiration to scientists for coining the term ""biodiversity"". With more than 40,000 plant species, 400 mammals, 1,300 bird species and millions of insects, it is a truly remarkable and unparalleled place.
Deep in the Amazon Basin in the eastern side of Ecuador, in the lush rainforest, located on the edge of Pilchicocha lake, you can find the stunning Sacha Lodge, a private 5,000-acre reserve where guests get to experience a true haven in the middle of nature, full of breathtaking sceneries and an abundance of wildlife. Located on the banks of the Amazon River, it boasts a spectacular view all year round. And the way it harmoniously blends into the surroundings makes it look like it's really part of the forest.
Sacha Lodge Ecuador has been designed to keep guests' safety and comfort in mind, and at the same time preserve the environment. The thatch-roofed cabins, with private shaded terraces equipped with hammocks, were built using traditional materials, which makes them fit perfectly into the scenery, and lends it an authentic look and feel. All 26 rooms have their own spacious bathroom, they are equipped with mosquito nets and ceiling fans.
There are fantastic leisure facilities and plenty of activities to take part in, like forest walks, canopy walks, caiman spotting, birdwatching and creek paddling, to name just some of them. Guests can satisfy their appetites at the Sacha Lodge's restaurant, where they can enjoy meals in a relaxed environment, including a la carte dinner that brings fine dining to the forest. At the heart of the Sacha Lodge experience is the Balsa, a covered alfresco lounge area that offers breathtaking 360-degree views over the Pilchicocha Lake.
The fully stocked bar above the restaurant is a perfect place for guests to relax and enjoy a cocktail or an ice-cold beer. There's also a small boutique shop where visitors can get to buy the essentials and souvenirs.
Sacha Lodge Ecuador is stunning, spacious and one of a kind, featuring first-class facilities, comfort, stunning walks and an abundance of wildlife spotting, making it a truly unforgettable experience for the adventure seeker.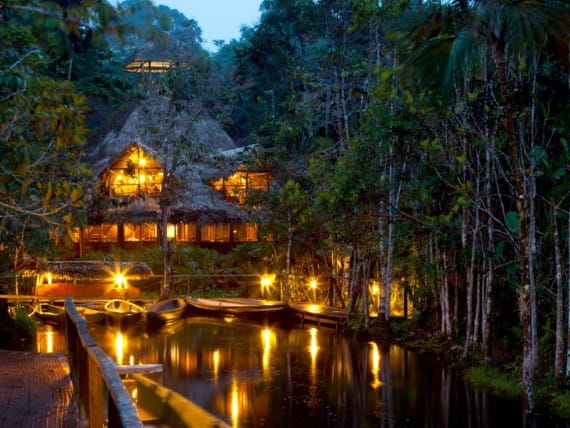 Activities in Sacha Lodge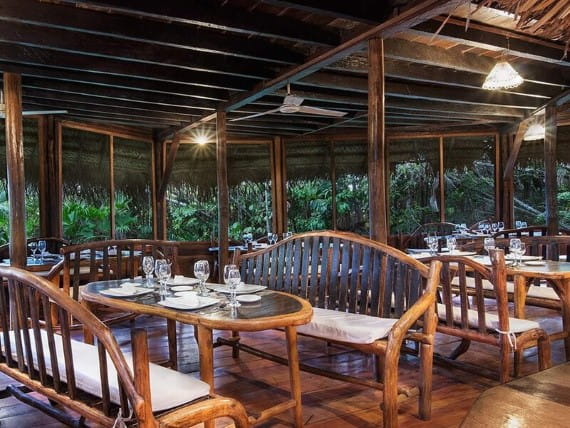 One of the highlights of making the trip to Sacha Lodge is that guests don't have to sacrifice comfort for adventure. Sacha Lodge has 26 rooms, that include single, double or triple accommodations, and 3 family cabins. Each of the thatch-roofed cabins is screened against insects and have private shaded terraces with hammocks, where guests can enjoy their evenings. When it comes to the amenities at the Sacha Lodge, each cabin comes with a spacious bathroom, with a hot shower. Some of the cabins even feature showers that have floor-to-ceiling windows to give guests a real jungle shower experience.
To make your stay at Sacha Lodge as pleasant as possible, the lodge also offers laundry service to its guests. The lodge also provides boots/rain ponchos for the tours into the incredible Ecuadorian Amazon rainforest.
Breakfast and lunch are served buffet-style at Sacha Lodge, mixing international dishes with local Ecuadorian ones. Dinner is served a la carte in the rustic and airy restaurant, in a relaxed atmosphere. All meals are prepared by the lodge's chefs using fresh and sustainable ingredients, and the menu changes every day. The kitchen can accommodate special dietary needs, so all appetites are sure to be satisfied at Sacha Lodge. During their stay, guests will also enjoy a barbecue of vegetables, grilled fish and meat, that the lodge holds on the lakeside Balsa.
Sacha Lodge is easily accessible, from Quito visitors take a 25-minutes flight to El Coca, where they will be met by a naturalist guide that will take them on a 2-hour trip along the Napo River in a motorized canoe.
Sacha Lodge | Amazon 8 Best Tours Rainforest Ecuador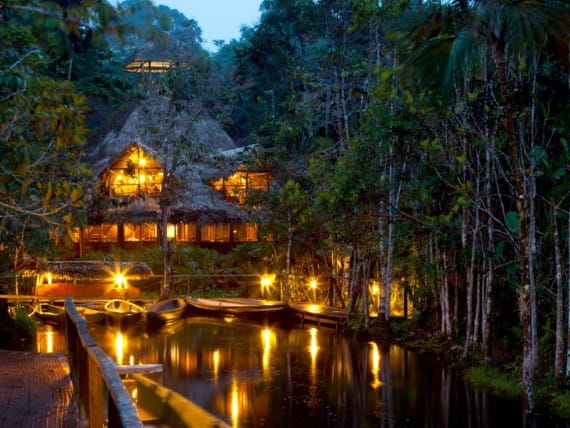 Take advantage of Sacha Lodge promotion with Dana Tours LLC Mindo Ecuador in Las Terrazas de Dana Lodge Birdwatching Birding Cloud Forest
Product SKU: sachalodge
Product Brand: Sacha Lodge
Product Currency: USD
Product Price: 1390
Price Valid Until: 2025-11-25
Product In-Stock: InStock