Take advantage of our promotion!
Visit the mighty Amazon Rainforest and experience the full grandeur of Mother Nature. While staying at the stunning Sacha Lodge, you'll get to experience an exotic biosphere full of breathtaking scenery and an abundance of wildlife. There is an adventure waiting for everyone!
At the heart of this dream vacation lays the ultimate experience in comfort. Sacha Lodge is in a private 5000-acre reserve that's located deep within the Amazon Rainforest in Ecuador.
The lodge has been designed keeping your safety and comfort in mind. The lodge boasts of first-class facilities, comfort, stunning walks and an abundance of wildlife spotting, making it a truly unforgettable experience for the adventure seeker.
The Sacha Lodge is stunning, spacious and one of a kind. The lodge offers so much more than superior build quality and style. It's located on the banks of the Amazon River, and boasts of a breath-taking view all year round. There are fantastic leisure facilities and plenty of activities to take part in. Satisfy your appetite at the Sacha Lodge's restaurant, where you can enjoy your meals in a relaxed environment, including a la carte dinner that brings fine dining to the forest.
At the heart of the Sacha Lodge experience is the Balsa, a lounge area that's covered al fresco and offers breathtaking 360-degree views of the Pilchicocha Lake. There's also a fully stocked bar above the restaurant, where you can relax and enjoy a cocktail or an ice-cold beer. There's also a small boutique shop where visitors can get to buy the essentials and souvenirs.
All of the cabins have been constructed with traditional materials that are found in the surrounding area, which lends it an authentic look and feel. Visitors will get to enjoy the high thatched roofs and the shaded terraces in lush surroundings.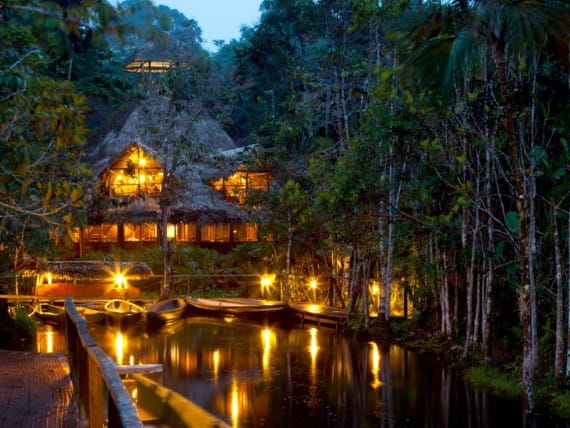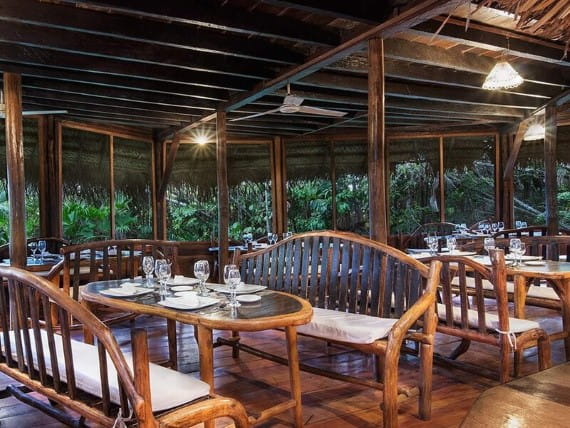 One of the highlights of making the trip to Sacha Lodge is that you don't have to sacrifice comfort for adventure. The Sacha Lodge contains a total of 26 rooms or cabins. Each of the cabins come with high thatched roofs and private shaded terraces that have hammocks, where you can enjoy your evenings. When it comes to the amenities at the Sacha Lodge, each cabin comes with a spacious bathroom, with a hot shower. Some of the cabins feature showers that have floor-to-ceiling windows to give you a real jungle shower experience.
Every cabin is screened against insects and mosquito nets are also provided to guests, so you do not have to worry about getting bitten by small critters while you are staying there. To make your stay at Sacha Lodge as pleasant as possible, the lodge also offers a laundry service to its guests. Boots/rain ponchos for the tour into the incredible Ecuadorian Amazon rainforest are provided by the lodge.
The breakfast, lunch and dinner cuisine served at the Sacha Lodge restaurant are a mix of traditional and international cuisine. There are also light and healthy options as well along with succulent meat and pasta dishes. All fish dishes come certified with the all-important Green Seal of responsible fishing. There's also plenty of options for vegans to sink their teeth into while staying at the Sacha Lodge.
From Quito you will take a quick flight to El Coca. A naturalist guide will take to Sacha lodge on a short boat trip along the Napo River to Sacha Lodge.