Take advantage of our promotion!
The Amazon is one of the most magnificent and mysterious places on Earth, and home to the most biodiverse areas. An Ecuador Amazon tour will offer a unique experience through the seemingly endless Amazon Rainforest, the largest in the world, comprising a myriad of ecosystems, as 10% of the planet's plant and animal species can be found here. It is a whole new world just waiting to be explored.
Within this magnificent region, in the northern side of Ecuador, there is the Yasuní National Park, a vibrant tropical rainforest considered to be the world's most biodiverse place. At the crossroads between the Amazon, the Equator and the Andes, it is home to more the 4,000 plant species, 200 mammals and also indigenous tribes.
In the intermediate corridor between Yasuní National Park and Cuyabeno Reserve, the second largest wildlife reserve in Ecuador lying at the foothills of the Andes, is located Sani Lodge, a unique place in the Ecuadorian Amazon forest, as it is the only eco-lodge in Ecuador 100% owned and operated by the indigenous Kichwa community of Sani Isla. Surrounded by 103,784 acres of untouched and pristine forest, Sani Lodge Ecuador does not only immerse its guests in the fascinating Amazon Rainforest and its wildlife, they also make them a part of their community, sharing with them their culture and their way of life.
When visiting Sani Lodge Ecuador, guests will hike through the forest that encompasses over 2,000 species of plants and an abundance of wildlife, including 550 different species of tropical birds, which can only be found in this region, 1,000 species of butterflies, 13 species of primates and more than 80 species of reptiles, to name just some of them. For bird watchers, there's a 100ft high birdwatching tower that's nestled between an equally tall kapok tree, which is just a canoe ride away from Sani Lodge. With the abundance of bird species in the area, going up the birdwatching tower alone makes the whole trip totally worth it.
There are other activities like canoeing, visiting the Yasuni butterfly Garden, or sport fishing that guests can enjoy. All this together makes Sani Lodge the top choice for vacationers looking for the ultimate eco-tourism experience.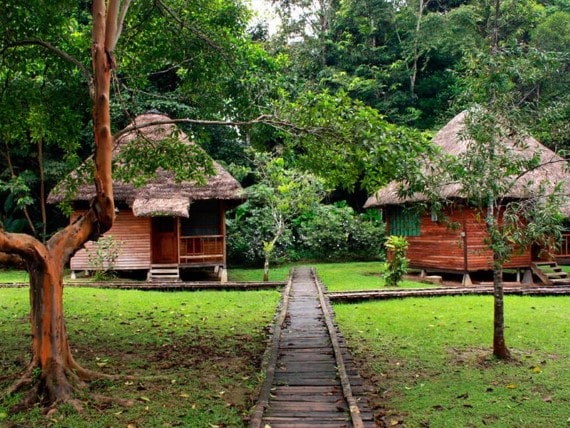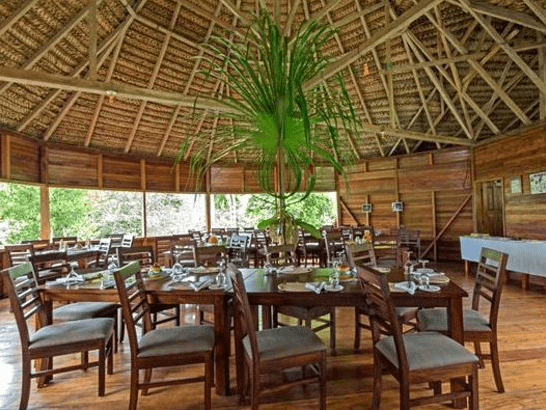 Sani Lodge has 13 cabins, all built with local wood, in harmony with the surrounding landscape. The rooms are spacious, with window openings protected with mosquito nets, and equipped with fans. The cabins include 1 Family cabin, 1 mini suite cabin and 1 Multi-Cabin, all with a large balcony overlooking the lagoon, and 10 Double/single cabins. You can get Wi-Fi in the bar area. The luxury cabins come with their own spa, a minibar and room service. On the dock there are hammocks and comfortable seating arrangements, where guests can enjoy an amazing panoramic view over the lagoon.
Sani Lodge's menu includes both international and local Ecuadorian dishes, prepared with ingredients grown locally. Depending on the number of guests, meals are served restaurant-style or buffet, accommodated to the guests' itineraries. For trips, snacks are also prepared every day for visitors, packed in reusable containers. The bar at Sani Lodge, overlooking the lagoon, is a nice option to relax in the evenings, where visitors get to enjoy a cold beer, a glass of wine or a cocktail, while admiring the amazing views.
To get to Sani Lodge, visitors board a plane from Quito Airport to Coca for a 30-minute flight, where they will be assisted by a staff member. There is also the option of taking the bus from Quitumbe for a 7-hour trip to Coca, where visitors will be met by a guide at MACCO Cultural Center. From there, it's a 3-hour boat ride down the Napo River, with snacks provided, where guests will have a first view of the unique flora and fauna of the rainforest. After that, there's a 15-minute boardwalk, followed by a 30-minute canoe trip to Sani Lodge.
Sani Lodge | Amazon 8 Best Tours Jungle Rainforest Ecuador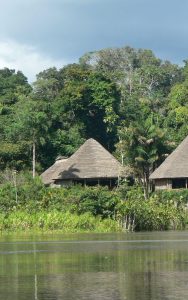 Take advantage of Sani Lodge promotion with Dana Tours LLC Mindo Ecuador in Las Terrazas de Dana Lodge Birdwatching Birding Cloud Forest
Product SKU: sanilodge
Product Brand: Sani Lodge
Product Currency: USD
Product Price: 1115
Price Valid Until: 2025-11-25
Product In-Stock: InStock