Take advantage of our promotion!
The Amazon is the last truly magnificent and mysterious place on Earth. It is a place that can't be described in words but must be experienced. From the seemingly endless Amazon Rainforest, to towering trees and a night sky that bursts into stars, there is a whole new world just waiting to be explored with an Ecuador Amazon tour.
Sani Lodge is unique in the ecuadorian amazon forest because this lodge is 100% owned and operated by the indigenous Kichwa community of Sani Isla. Located on a massive 103,784 acres of untouched and pristine forest, the boutique lodge is smack in the middle of a melting pot for biodiversity.
Sani Lodge is located where there is an abundance of wildlife, including 550 difference species of tropical birds, which are unique only to this region. 1,000 species of butterflies, 13 species of primates, and many, many more. The amount of diversity in the wildlife that's in the area is why many vacationers looking for the ultimate eco-tourism experience choose Sani Lodge.
For bird watchers, there's a 100ft high birdwatching tower that's nestled between an equally tall kapok tree, which is just a canoe ride away from Sani Lodge. With the abundance of bird species in the area, going up the birdwatching tower alone makes the whole trip totally worth it.
The main activities at Sani Lodge include hiking, bird watching and canoeing. These activities are available each day; in the morning, in the afternoon and after dark.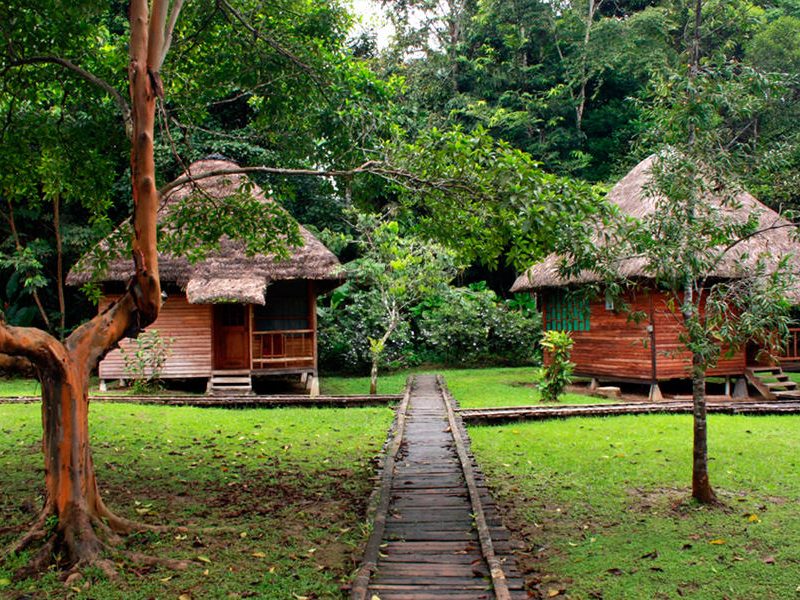 There are 10 cabanas, and 4 family size cabins, that come with their own private bathroom. All accommodation options at Sani Lodge are connected by a wooden boardwalk. The rooms are spacious and feature wooded fixtures. Each room has a comfortable bed, mosquito nets, and all of the basic amenities that one would expect. In front of each detached room is a porch with amazing views over the forest. Each room also comes with Wi-Fi connectivity, which is great for those who want to check in on work or the outside world. You can also get Wi-Fi in the bar area. The luxury cabins come with their own spa, a minibar and room service. The dock is located around a quite lagoon where there are hammocks and comfortable seating arrangements to enjoy the sunset.
Visitors get to enjoy a three-course meal at both lunch and dinner at Sani Lodge that's prepared by an experienced in-house chef. For breakfast, you will have a choice of eggs, granola and yogurt, with a side of fresh tropical fruits or toast. The bar at Sani Lodge is a nice option to relax in the evening, where visitors get to enjoy alcoholic beverages of their choice.
Sani Lodge can be accessed from Coca, a small town in Ecuador. It is a 30 minute flight to get to El Coca from Quito. From there, it's a 2-hour boat ride down the River Coca. After that, there's a 15-minute boardwalk that's followed by a 10-minute canoe trip to reach the secluded lodge. It is located on community land between the Cuyabeno Reserve and the Yasuni National Park.